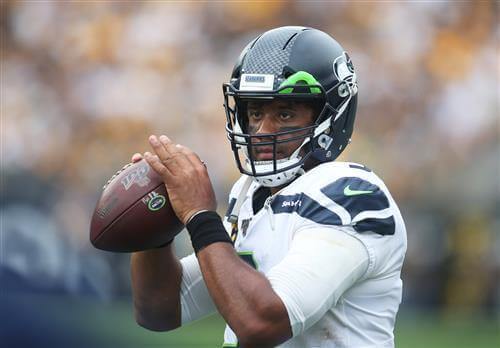 Russell Wilson isn't going anywhere…right now. There were rumblings that the Seahawks had explored trading him back in 2018, sending the Super Bowl-winning QB to the Browns in exchange for the No. 1 overall pick.
Baker Mayfield ended up being the No. 1 overall pick and while he was no consensus top pick at the time, Seattle would have theoretically drafted Cleveland's current starting signal-caller.
Former Browns coach calls BS on the rumors. "I've never heard something so crazy in my life," said Jackson, who went 3-36-1 with the Browns. "I'm sure [Former Browns GM] John [Dorsey] and [Seahawks GM] John Schneider are really tight. And I'm sure if they're having conversations on their own and just jiving around and doing those kinds of things. I would think if something was serious about that, we — the executive team — and the organization would have known."
Mayfield hasn't been that bad in his two years in the league. He just hasn't lived up to the enormous hype that has surrounded him. Still, he's no sure thing as a franchise QB. He's certainly not on the level of Russell Wilson and it's not certain that he ever gets there.
It's also not certain if that the Seahawks have come anywhere close to moving on from Russell Wilson. The 6-time Pro Bowler is under contract through the 2023 season and he has a no-trade clause in his contract. Yet, all parties decide it's time to move on, there will be no shortage of suitors for him.