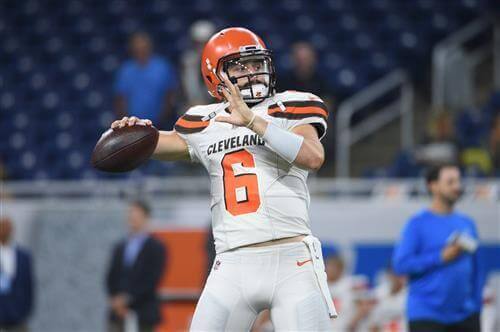 No matter how long the Cleveland Browns wait, nobody is going to do them any favors when it comes to possibly trading for Baker Mayfield.
The relationship with Baker Mayfield has been severed ever since he demanded a trade upon finding out the team was pursuing Deshaun Watson. Their first failure in getting him forced them to go back to the table and sweeten their offer, which came to the tune of a fully guaranteed $230 million contract.
In the meantime, the NFL is investigating Watson amid multiple allegations of sexual assault and harassment.
Despite not being able to find a trade partner for their starting QB, Pro Football Talk's Mike Florio is laying out a hypothetical three-team deal where Cleveland trades Mayfield to Carolina while acquiring Jimmy Garoppolo from San Francisco.
"A three-way trade could make sense, with the Browns sending Baker Mayfield to the Panthers, the Panthers sending a draft pick or two to the 49ers, and the 49ers sending Garoppolo to Cleveland," Florio wrote. "But the question of paying Mayfield's $18.8 million guaranteed salary continues to complicate any such conversations."