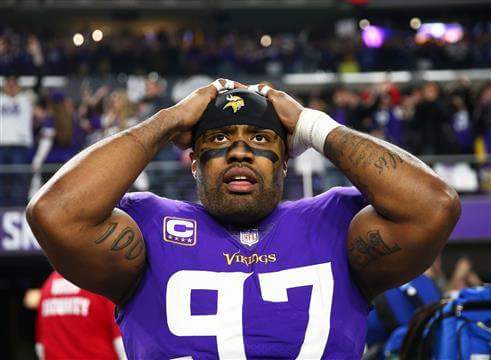 Minnesota Vikings defensive end Everson Griffen was reportedly named in a police report regarding an incident at a Minneapolis hotel in which a person allegedly "[threatened] to shoot someone in the middle of the day on Saturday."
KSTP's Ryan Raiche reported Monday that Minneapolis police redacted the person's name in the report, but a source told Raiche that Griffen was the man in question.
An emergency dispatcher relayed to officers that a man had issued the threat unless hotel staff allowed him in his room.
Raiche also reported Griffen allegedly "threatened to assault staff members" before leaving the hotel. Officers didn't make any arrests and didn't find a gun after responding to the scene.
According to a report from Seth Kaplan of Fox 9, Griffen was then arrested for allegedly trying to break into a teammate's home and is having a mental health evaluation.