Olivia Culpo is one of the hottest women on planet Earth, or on any other planet unless there is some mystery planet out there that stocks nothing but 12 out of 10's. Well...she did win Miss Universe in 2012 and who are we to question Donald Trump?
Anyway, I'm not sure why Olivia hasn't been featured as a "WAG Of The Week" in the past based on her sexless relationship with the super-human Tim Tebow (how he held on to his vow for those two months I'll never know). She's apparently dipping into the football pool once again with New England Patriots' wide receiver Danny Amendola.
Late on Wednesday night/early on Thursday morning Culpo posted a pair of images (that have since been deleted) that show her posing with a shirtless "friend" while wearing game-used Patriots helmets. (Images below) Twitter detectives have narrowed down Amendola as the only possible option. Adding to the evidence pile is the fact that Amendola lives in Rhode Island and Culpo is from Rhode Island and she only follows ONE Patriots player on Twitter...guess who?
Strictly rumor at this point but why post the late night selfies if you don't want the internet running with the story?
Here are the Snaps followed by some more Olivia Culpo stuff: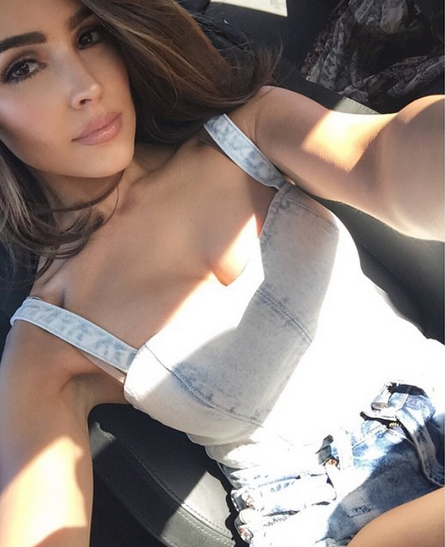 H/T - Barstool for running with this story
*** Follow us on social media for exclusive content that you won't find here on Pro Sports Daily.