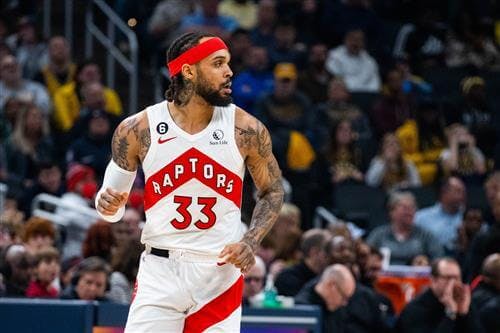 The Los Angeles Lakers have shaken up the NBA trade market by making a swing for Rui Hachimura from the Washington Wizards and giving up 3 second-round picks along with Kendrick Nunn to make it happen.
Laker fans are hoping this is the first of many moves for LA, as the team is primed to make a run toward a top-6 seed after this move. However, this doesn't move the needle for a championship, and the Lakers need to do right by LeBron James and Anthony Davis by giving them an actual contending roster. The recipe for a successful LeBron James team has always been shooting, and the Lakers still lack in that department.
With possible trade talks between the Lakers and the San Antonio Spurs re-opening over Russell Westbrook, this may be the perfect chance for the Lakers to get high value out of their first-round picks. But to make that work, the Lakers need to capitalize on what the Toronto Raptors are doing and get a key shooter that they are looking to move in Gary Trent Jr. This 3-team trade sees the Lakers add shooters for Russ and their picks, with the Raptors using to finally get Jakob Poeltl back.
Los Angeles Lakers Receive: Gary Trent Jr., Josh Richardson, Doug McDermott
Toronto Raptors Receive: Jakob Poeltl, 2027 First-Round Pick From The Lakers (Lottery-Protected)
San Antonio Spurs Receive: Russell Westbrook, 2025 First-Round Pick From The Raptors (Top-5 Protected), 2029 First-Round Pick From The Lakers (Top-10 Protected)