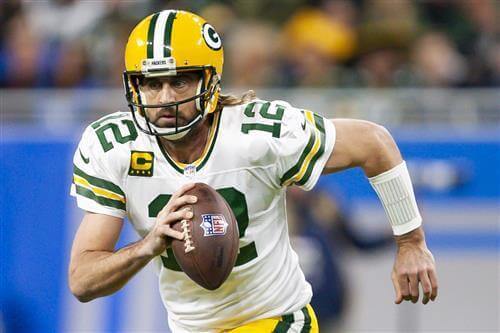 The NFL playoffs are an exciting time for fans, players, and franchises. The jump in competition means we'll see legacy-altering performances from some of the top stars. For non-contenders, this time is best spent formulating how to land a premier quarterback in order to reach the Super Bowl next year.
The 2021 offseason was the first where established starters were swapped regardless of contract size and cap implications. Last year may have marked the beginning of an era where the likes of Matthew Stafford, Carson Wentz, and Jared Goff are traded more frequently.
We'll see the rumors swirling all spring long. Some are rotted from truth, while others are more hopeful than realistic. Like we did last year, we'll break down all facets of each quarterback potentially on the move coming true.
Here are predictions where the likes of Aaron Rodgers, Russell Wilson, Deshaun Watson, and more will be playing next season.
Aaron Rodgers
Prediction: Packers
After spending the majority of the 2021 offseason discontent with the Packers, Aaron Rodgers hasn't seemed nearly as upset with the franchise so far this season. It helps that the Packers clinched the lone NFC bye week and overall No. 1 seed. The franchise also traded for Randall Cobb as Rodgers wished and this could be a sign of a front office willing to listen to the star QB on personnel decisions moving forward.
That might be all it takes for Rodgers to stay in Green Bay long-term. With reports the Packers will keep Davante Adams on the franchise tag for 2022, Rodgers, 38, would need to be convinced going elsewhere guarantees a better chance at a Super Bowl. It's hard to imagine he'd even consider more than two or three teams since the Packers have sustained a high-level of play under Matt LaFleur.
Green Bay does have significant cap limitations in 2022 that will crush hopes of any big acquisitions. Rodgers could name his destination, with Denver, Cleveland, and Pittsburgh standing out as the best rosters that need an upgrade. But that's up to Rodgers, and a Super Bowl win could further seal his return.
Russell Wilson
Prediction: Broncos
It was hard to watch the Seahawks in 2021 as the franchise continued to stumble over themselves as the defense disappointed and Russell Wilson struggled with a finger injury. We know head coach Pete Carroll will be back in 2022, and the veteran head coach has insisted the franchise is close to contending despite their 7-10 record. However, the franchise needs to make a difficult decision as to whether it's time to entertain trading quarterback Russell Wilson.
The 33-year-old dual-threat remains effective at taking care of the ball and efficient in a vertical passing offense. His 64.8 percent completion rate, 25 touchdowns, 6 interceptions, and 7.8 yards per attempt are all in line with his career norms. But the veteran lacked the same explosiveness we've grown accustomed to.
His $37 million cap number is reasonable for a superstar, but factors into a deal. With Denver in particular desperate for an upgrade and Wilson voicing his own displeasure last offseason, now is the chance for Seattle to move Wilson for a maximum return. And Wilson should be highly interested in working with arguably the most talented young set of playmakers in the league.
Denver would immediately jump to the top of NFL contenders going from Teddy Bridgewater and Drew Lock to Wilson. The franchise is not only in the midst of a coaching search, but also an ownership change. Those two factors could potentially help or hurt general manager George Paton's pitch to veteran quarterbacks.
Deshaun Watson
Prediction: Panthers
The biggest wild card this offseason is Deshaun Watson. His legal troubles held him back from being traded by now and soon there will be some developments on that front. A deal won't happen until the NFL provides clarity on whether Watson can play right away in 2022 or has to serve a suspension.
Recent developments will affect teams interested in the Watson trade market. Miami's 7-2 winning streak and firing of Brian Flores has been in part to reinforce commitment to Tua Tagovailoa. But Cleveland's and Carolina's disastrous quarterback seasons have made them more desperate to upgrade.