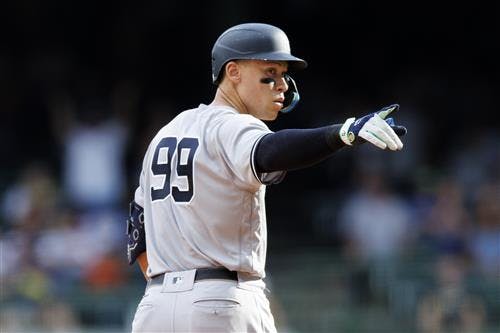 It would be difficult to have a better contract year than Aaron Judge. The New York Yankees slugger and AL MVP frontrunner is in the middle of a historic season, one that has him chasing a Triple Crown as well as Roger Maris' American League single-season home run record, and he's doing it right before free agency. Judge has set himself up for a massive, massive payday.
"Very few people get this opportunity to talk extension. Me getting this opportunity is something special and I appreciate the Yankees wanting to do that," Judge said after rejecting a seven-year, $213.5 million extension in spring training. "But I don't mind going into free agency ... At the end of this year, I'll talk to 30 teams. The Yankees will be one of those teams."
We know the Yankees offered seven years and $213.5 million because GM Brian Cashman took the unusual step of announcing the offer terms during a press conference. Judge didn't seem to appreciate that -- "That's something I felt like was private between my team and the Yankees," he said -- and he sought 9-10 years at $36 million per year, according to the New York Post.
The Yankees made a reasonable offer in spring training and now, nearly six months later, Judge has done what once seemed impossible: he's earned himself more money. Teams pay for future performance, not past performance, though Judge has raised his perceived ceiling this year. No longer is he capable of "just" MVP-caliber seasons. He's capable of historic greatness.
"We think Aaron Judge is an all-time Yankee. We think he's a great player, beyond a great player. We think he's a great person. That's why we offered him the highest position player contract in the history of the Yankees," Yankees president Randy Levine said earlier this month. "I admire him that he went out and took this upon his shoulders and we'll sit down with him and hopefully figure it out. I think there's no question we want him back and no question we value him."
What has Judge's season done for his earning potential? Well, a lot. We know that much. Let's try to figure out what Judge's next contract could look like after the season he's having.
The extension offer, in context
The Yankees did not pull seven years and $213.5 million out of thin air. The extension would have begun in 2023 and the $30.5 million average annual value would have been the second richest ever for an outfielder, just above Mookie Betts and well below Mike Trout.