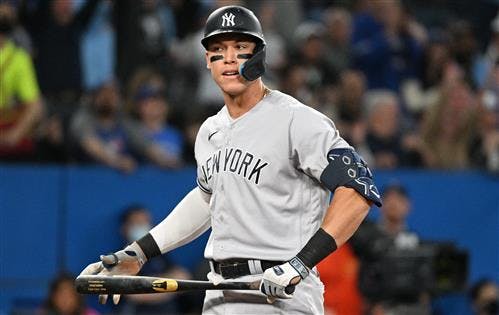 Aaron Judge is a hell of a ball player. He's big, powerful, and intelligent in the outfield and he's a great leader in the clubhouse. He would no doubt be a great addition to any team for the next five+ seasons.
Every single professional athlete has the right and privilege of going through the free agent process at some point in their career. For most, it comes at such a young age that it becomes a major decision that has implications on family, way of life, and most importantly career trajectory.
The main goal of every pro athlete is winning championships and putting yourself in a position to do so by where you want to play is not an easy decision. Money, term, potential, fit, and legacy all need to be taken into account.
With that said, let's take a look at what Aaron Judge could become over the next five years based on the teams he's been linked to.

New York Yankees

You either love the Yankees or loathe them, but you can't be mad at them for spending and trying to build winning teams. Aaron Judge made his major league debut in 2016 and it didn't take him long to make his name known. He hit 52 home runs in 2017 before posting back-to-back 27 homerun campaigns. He never exceeded a .285 batting average, but when you swing for the fences every at-bat, you're not expected to hit for average. Last season, Judge hit the (in)famous 62-homerun mark while batting .311. He failed to live up to the billing in the postseason, managing just one hit in 17 plate appearances over four games.
If Judge resigns with the Yankees, it'll be a "unfinished business" type of deal, albeit for a lot of money. Judge knows that as of right now he'll likely only be remembered for his home runs so perhaps in the back of his mind he's looking to change that, and the legacy that comes with leading the New York Yankees to a World Series title is second to none.
Another aspect to look at is how realistic the Yankees' chances are of not only getting to the World Series but winning it. If he stays in the AL East – a division title should not be an issue, and the Astros are the only formidable foe.
Staying with the Yankees is likely the best decision in terms of career trajectory. Oh, and did I mention 81 games per season with a short porch in right? All rise for the stat padder.
San Francisco Giants

It's a tad bit funny that Judge has had meetings with the Giants after his 62-homerun season which is being debated about if it's the single-season home run record, or if that still belongs to Barry Bonds with an asterisk beside his name.
For the Giants to persuade Judge to sign with them, it's going to take something monumental. He's already turned down a $214-million contract from the Dodgers, so unless Judge only cares about legacy/winning, he may not be interested in how many brinks trucks will be backed up onto his front lawn.
Going to the Giants is the wrong move for Judge for a few reasons. The first reason is the division. The Giants are a bad baseball team. Outside of their 107-win season in 2021, they've finished third or worse in five of the last six seasons. Judge will not have the same kind of protection in front of, or behind him in the lineup that he did/would have in New York, and hitting into that SF wind could knock down production in a big way (it could also help when the wind is blowing out).
Either way, the Giants are still in a division with the Dodgers and Padres and so getting to the playoffs is not a foregone conclusion.
Los Angeles Dodgers

For all the hate the Yankees get for "buying championships", the Dodgers and their unlimited resources do pretty much the same thing, except they usually choke when it matters most. Yes, they've made the postseason in 10 straight years and have made three World Series, but they've only won one of them.
If Judge goes to the Dodgers it will be like Kevin Durant joining the Warriors and the if you can't beat them join them mentality. The Dodgers will have an even bigger super team and Judge would slot in nicely into any spot in the order with great protection. He does have good numbers in very limited action at Dodger Stadium, posting three home runs on five hits in 13 at-bats in 2019. The sample size is small, but the possibility of producing at a high level is there.
The big question is does Judge want to be known as someone who wants to lead his team to a title, or does he want to just join a great team and lessen the pressure?
Remember, he's already turned down a massive contract from the Dodgers, but money doesn't always mean everything in free agency.
Judge will be 31 at the end of April and the clock is ticking on production and longevity.