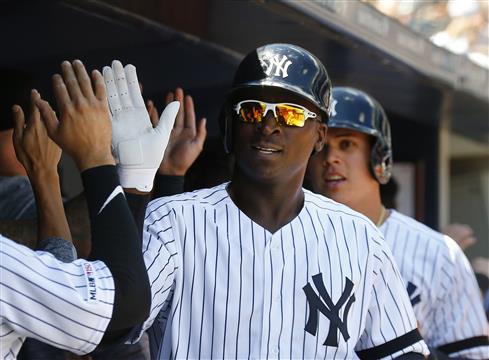 Now that the Major League Baseball trade deadline has come and gone, up next on the list of things to look forward to are the stretch run of the regular season and, of course, the postseason.
But let's skip right past those and look ahead to free agency.
We have fresh predictions for where the offseason's top 10 free agents—all guys who come with some combination of an established track record, upside and star power—will end up. The list includes neither players with opt-out clauses (e.g., J.D. Martinez, Stephen Strasburg and Aroldis Chapman) nor players with options (e.g., Yasmani Grandal and Mike Moustakas).
We otherwise based our predictions on team needs, payroll flexibility and old-fashioned guesswork.
We'll proceed in order from the least desirable free agent to the most desirable one.
SS Didi Gregorius: New York Mets
2020 Age: 30
Career WAR: 16.5
Didi Gregorius underwent Tommy John surgery in October, and he's posted a modest .739 OPS since returning to the New York Yankees on June 7.
Yet he's at least maintained above-average power, and his nine homers even give him an outside shot at a fourth straight season of at least 20 long balls. As it is, Trevor Story and Francisco Lindor are the only shortstops who've hit more homers than Gregorius since 2016.
Defensive metrics have generally been split on Gregorius' glove work. But he's at worst playable as an everyday shortstop, and he often looks like a good one to the naked eye.
Because not many contenders have true needs at shortstop, there might be an opening for the Yankees to re-sign Gregorius on a team-friendly contract. But since they could just as easily hand his spot to Gleyber Torres, that opportunity might shift to clubs such as the Milwaukee Brewers and New York Mets.
The Mets, in particular, might have it in mind to move Amed Rosario to center field and double-down on their commitment to contention by drawing Gregorius from the Bronx to Queens.
Prediction: New York Mets
RHP Zack Wheeler: Houston Astros
2020 Age: 30
Career WAR: 8.2
Even after five seasons in the majors, Zack Wheeler is still a great pitcher only in the abstract.
His 3.84 career ERA translates to a slightly below-average 98 ERA+, and he's topped out at 185.1 innings and 187 strikeouts. It also took him two years to fully recover from Tommy John surgery in 2015.
Yet Wheeler's talent is still as tantalizing now as when he first entered the majors as a coveted prospect back in 2013. He averages 96.7 mph on his fastball, and his slider checks in at 91.5 mph.
Based strictly on his upside, Wheeler figures to be a top target for starting pitching-needy teams this offseason. There are few clubs that don't match that description, but his sweepstakes may be won by one that has utmost confidence in its ability to unlock his potential.
Which is why he seems destined to be a Houston Astro.
According to Ken Rosenthal of The Athletic, the Astros went hard after Wheeler before pivoting to a deal for Zack Greinke. While he's in for the long haul, the Astros will have a big pair of shoes to fill when Gerrit Cole hits the open market this offseason. To that end, their famed analytics armcould adjust Wheeler to fit them.
Prediction: Houston Astros
RF Nicholas Castellanos: Cleveland Indians
2020 Age: 28
Career WAR: 6.4
Nicholas Castellanos might generate more wins above replacement one day, but only if his defense improves.
After putting up minus-64 defensive runs saved in four seasons as a third baseman, Castellanos has carried his defensive limitations over to right field with minus-31 DRS since late in 2017.
The bright side is that Castellanos can indeed hit. Since the start of 2016, he's put up an .832 OPS with 255 extra-base hits. He's also been in salary-drive mode since going from the Detroit Tigers to the Chicago Cubs on July 31. He's rocking a 1.215 OPS and five homers through 12 games.
Because of that trade, Castellanos is also barred from receiving a qualifying offer. But while not being tied to draft-pick compensation will help his value, his shortcomings outside the batter's box and the general abundance of sluggers across MLB are likely to restrict his market.
If it's a question of which American League clubs could benefit from that, the Cleveland Indians and Tampa Bay Rays are potential fits by way of their open contention windows and common need for power. If they take a break from cutting payroll—which is a big if—the Indians might just pounce.
Prediction: Cleveland Indians
RF Yasiel Puig: Chicago White Sox
2020 Age: 29
Career WAR: 19.8
Another reason Cleveland might mount an opportunistic pursuit of Castellanos is that somebody will need to fill Yasiel Puig's shoes when he's gone.
The Indians landed Puig as part of a three-team trade with the San Diego Padres and Cincinnati Reds that notably sent ace right-hander Trevor Bauer to Cincinnati. Puig responded to his new surroundings with a .984 OPS in 11 games before submitting to a three-game suspension for his role in a July 30 brawl.
That wasn't the first altercation the "Wild Horse" has ever found himself in. Nor is it likely to be his last. Yet Puig's misadventures are generally worth living with because he's nothing if not talented. He owns an .826 career OPS and is typically rated as a well-above-average right fielder.
Come the offseason, the best fit for Puig might be a team that covets his star power just as much as his two-way ability.
It so happens the Chicago White Sox are a team with a proud Cuban tradition, a dire need for a right fielder and, based on their flirtationsduring the offseason, a willingness to spend big bucks on brand-name stars. And thanks to the midseason trade, signing him would only cost money.
Prediction: Chicago White Sox
LF Marcell Ozuna: Cincinnati Reds
2020 Age: 29
Career WAR: 18.9
Marcell Ozuna's 2017 season, in which he posted a .924 OPS and 37 home runs for the Miami Marlins, is a clear outlier in his track record. However, he's no longer the fallen star he seemed to be just last season.