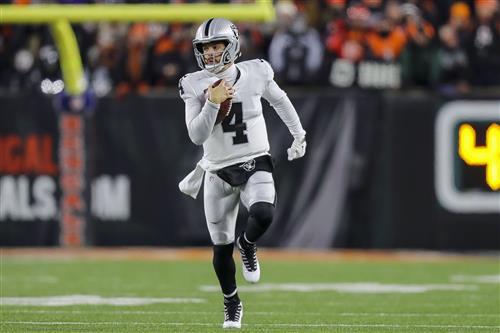 Why would the Las Vegas Raiders move on from Derek Carr?
The quarterback spent this season tugging the team to an improbable playoff appearance amid waves of organizational turmoil and tragedy. Carr morphed into the beating heart of the franchise while producing reels of largely positive tape.
Heroics noted, but the Raiders of today sit mired in transition. General manager Mike Mayock has been fired. Owner Mark Davis will hunt for his replacement, along with, presumably, a new head coach. Carr has openly pushed for Rich Bisaccia to return, but the interim leader is far from a shoo-in to land the job. Especially considering how Davis tractor beams toward starry big names -- the Jon Grudens and Jim Harbaughs of the world.
NFL Network Insider Ian Rapoport reported Saturday that "Las Vegas and Carr have a mutual decision to make this offseason, and sources say the choice of the head coach will be a factor."
What if a new regime doesn't want to hand Carr -- who'll be in a contract year in 2022 -- the hefty extension many believe he deserves? Davis reigns over that verdict, too, but this is an owner who allegedly courted Tom Brady with Carr still planted under center.
It's hot-stove chatter for now -- a parlor game of the mind -- but where will Carr be taking snaps next season? Here's my list, beginning with the most sensible result:
Las Vegas Raiders
Carr is set to make $19.8 million in the final year of his deal. Extension talks stay silent at least until Davis finishes this hiring cycle. How does the Raiders owner feel about Carr as his quarterback for another five years? Was he turned off by some of the passer's costly mistakes down the stretch, including a doomed final lob in Saturday's wild-card loss to the Bengals?
Carr isn't Aaron Rodgers. He's in that next tier of passers. Still, Carr is a solidifying force inside the locker room with the physical tools to roll as a top-10 signal-caller. He's a selling point to coaching candidates versus what's behind Door No. 2: Searching the vast wilderness for a better option. Unless you're angling to trade for a Russell Wilson-type figure, why the wandering eye?
Besides, Carr has talked repeatedly about his desire to remain a Raider for life. I don't see that changing unless he's vastly unhappy with the decision at head coach. Or maybe Davis ultimately gets cold feet about clinging to Carr for another half decade. No new money would almost certainly trigger a divorce.
Indianapolis Colts
Colts owner Jim Irsay telegraphed his distrust in Carson Wentz when he penned a letter to fans.
"We ended our season in perhaps the worst way possible and missed our chance to compete for history," he wrote, before adding: "The buck stops with me."
Indianapolis' apocalyptic Week 18 loss to the Jaguars ejector-seated the Colts out of the playoff picture and placed a burning spotlight on Wentz, who committed two crushing turnovers, threw for just 185 yards and absorbed six sacks by Jacksonville's defense. Trading for Wentz last offseason also wound up costing Indy a first-round pick.