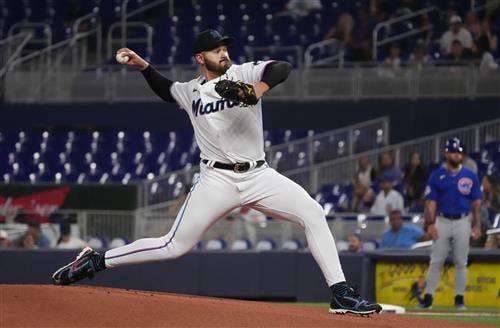 The Miami Marlins made a notable addition on Tuesday, signing veteran right-hander Johnny Cueto to a one-year contract worth $8.5 million with a club option. Cueto enjoyed a resurgent 2022, posting a 3.35 ERA and a 3.09 strikeout-to-walk ratio in 25 appearances, but his addition to Miami's roster is most significant because it should precipitate a trade.
Indeed, the Marlins have been trawling the free-agent and trade markets all winter looking for offensive upgrades. Kim Ng's main bait in her quest for an improved lineup? Starting pitching. The Marlins have the good fortune of employing more starters than they have rotation spots. Rookie manager Skip Schumaker could trot out a starting five fronted by reigning National League Cy Young Award winner Sandy Alcantara and Cueto that includes some combination of Pablo López, Jesús Luzardo, Trevor Rogers, Edward Cabrera, and Braxton Garrett. And that's without considering some of the injured and depth pieces the Marlins have coming, such as electric right-hander Eury Pérez, who CBS Sports recently ranked as the sport's eighth best prospect.
Presuming that Alcantara, Cueto, and Pérez are staying put, that makes one of Miami's other arms expendable. López, by virtue of being the closest to his free-agent date (he'll qualify after the 2024 season), would seem to be the likeliest to go. That he would also fetch the most in return doesn't help his odds of sticking around. Originally acquired as part of the David Phelps trade of 2017 (remember that blockbuster?), López has established himself over parts of the last five seasons as an above-average big-league starter, amassing a 3.94 ERA and a 3.44 strikeout-to-walk ratio in more than 500 innings.