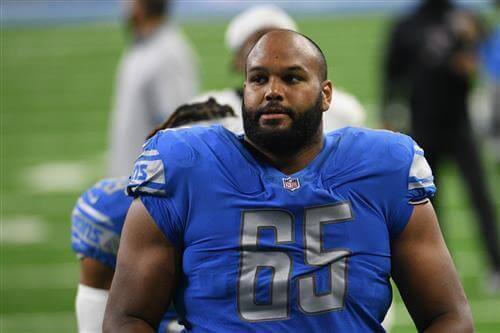 Despite the obvious negative connotation that comes with it, getting cut by an NFL team doesn't always signal the end of a player's professional career. In fact, there are countless instances throughout NFL history in which one team's trash was another team's treasure.
For a recent example, Raheem Mostert went undrafted in 2015 then was cut by six different teams before landing as the feature back in San Francisco with the 49ers.
As cuts roll in before Tuesday's 4 p.m. EST deadline for teams to decrease their roster size to 53 players, I will be tracking the released players most worthy of being added by another club.
Below you'll see those players, with information on which team released them, the round in which they were drafted -- if applicable -- and a link to their Mockdraftable spider chart, which showcases how they tested at the combine or their pro day when they were prospects.
OT Tyrell Crosby
Released by: Lions
Draft status: Round 5 - 2018
Positional athleticism: Above-average
One of the annual guarantees in the NFL -- new coaches and GMs are content in releasing good players because they have no connection to them. Crosby is the latest example of said phenomenon. Crosby logged more than 1,100 regular-season snaps in his NFL career, the vast majority of which have come at right tackle, the others at left tackle.
The former Oregon star is what every coaching staff should want to see from a Day 3 selection -- marked improvement in each season. Crosby's pressure-allowance rate went from 8.2% in 2019 (when he assumed swing tackle duties) to 4.7% last season in the largest role he'd assumed in his NFL career (424 snaps).
WR KeeSean Johnson
Released by: Cardinals
Draft status: Round 6 - 2019
Positional athleticism: Well below-average
As a rookie, Johnson went for 187 yards on 21 receptions -- just 8.9 yards per -- with one touchdown. Of course, after the acquisition of DeAndre Hopkins -- thank you, Bill O'Brien -- Johnson shuffled down the receiver depth chart. On just under 19% of the snaps, Johnson caught 15 balls for 173 yards. He had three snags for 49 yards this preseason.
And now, with Rondale Moore in the mix for Kyler Murray's offense, there simply wasn't space in the receiver room in the desert. Johnson tested like a low-level athlete entering the league, but flashed some separation ability and bounce after the catch in his first two seasons with the Cardinals. He can be a WR4 in the NFL.