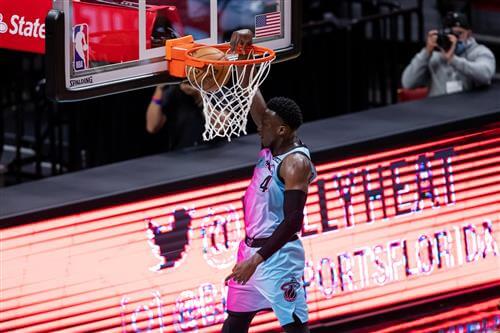 NBA trade rumors will soon start picking up steam now that what promises to be an event-filled offseason is on the horizon. Some teams will look to move off expensive stars as a way to save cash. Others are going to go all in with their championship windows still wide open.
Will the Los Angeles Lakers pull off a big move or two? Back east, the New York Knicks will be linked to a ton of big names after they end up finishing up shop on a surprising 2020-21 season.
How Victor Oladipo injury impacts Miami Heat offseason plans
When Miami acquired All-Star guard Victor Oladipo at the trade deadline, the idea was for him to be a long-term option out on the perimeter with Jimmy Butler and Tyler Herro. Unfortunately, Oladipo played just four games for Miami before suffering a quad injury. Now, according to ESPN's Brian Windhorst, he might be lost for the entire 2021-22 season after undergoing surgery.
Slated to become a free agent, this will obviously impact Oladipo's market. It is also going to change things up for the Heat. They will have money to sign a max-contract player during the summer. They are also going to have to retain restricted free agent Duncan Robinson on a deal that will likely cost $20 million annually. With Oladipo seemingly not an option for next season, Kyle Lowry might now be Miami's central focus. Time will tell on that front.
NBA trade rumors: Chicago Bulls could target Bradley Beal
There's no telling whether the Washington Wizards will make high-scoring guard Bradley Beal available during the summer. Right now, things are not pointing in that direction. But for some reason, if he were made available, the Bulls will have interest. K.C. Johnson of NBC Sports Chicago notes that there's been "speculative talk" that Chicago could make a play for Beal. He has a relationship with Bulls head coach Bill Donovan dating back to their days with the Florida Gators. A move of this ilk would likely require Chicago giving up Zach LaVine considering the bounty of draft picks it yielded to the Orlando Magic for Nikola Vucevic at the NBA trade deadline.