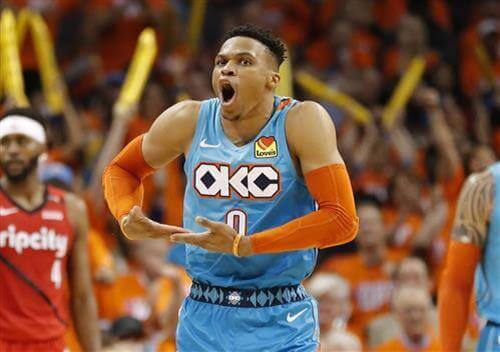 The Oklahoma City Thunder have just been knocked out of the playoffs in the first round for the third straight time now, with Russell Westbrook getting really exposed in both ends of the hardwood once again.
It just feels as the Thunder will never win a Championship with Westbrook on the team, and while he managed to recruit Paul George and is a hell of a player, they may be wise to try and move on from him.
Westbrook deserves a fresh start elsewhere. He's great, but he hasn't even been able to win a road game in the playoffs since Kevin Durant left three seasons ago, and that says a lot about the team's need to move him.
Sam Presti is a great General Manager and he has made quite some bold moves in the past, like the James Harden trade, so perhaps, he could use Westbrook to turn around the team again. But how? Let's take a look at the top 5 trade packages the Thunder could get for him.
5. Los Angeles Clippers – Lou Williams, Montrezl Harrell, Shai Gilgeous-Alexander, Ivica Zubac, Future Picks
And finally, we find the Los Angeles Clippers, a team with great flexibility, a strong core, a brilliant coach and a bunch load of money. Yet, given their history, perhaps they won't be the most appealing destination for several players.
But, if they trade for Russell Westbrook, perhaps that could be enough to convince guys like Jimmy Butler or Kawhi Leonard to also join on board. The Thunder, on the other hand, would have their point guard of the future, the best sixth man ever, and a solid backup big man to try and make another run at the Championship.
4. New York Knicks – Top 3 Pick
The New York Knicks could actually pursue Russell Westbrook in the summer, but a lot needs to happen first. If they don't get the first overall pick in the Draft, and they also strike out on Kyrie Irving and Kevin Durant, Sam Presti could try and make them an offer.
The Knicks are determined to go back to relevance and Westbrook would thrive on such a huge market (plus, there's all the fashion).