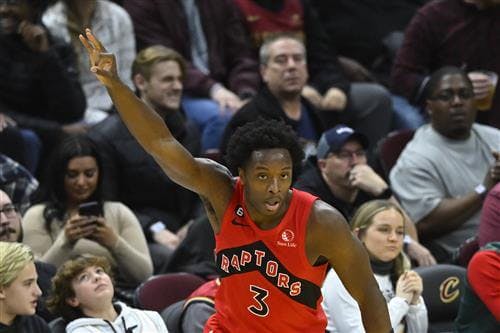 The NBA trade deadline is a week away, and The Athletic's Sam Vecenie (scouting), Seth Partnow (analytics) and Danny Leroux (salary cap) have put their heads together to identify the players who, if traded, could most impact the remainder of this season, as well as position teams for the future.
Since the first iteration of this board, Rui Hachimura has been moved to the Lakers, and Myles Turner has agreed to a team- (and player-) friendly extension that ties him to the Pacers through 2025. He's still eligible to be traded, but it seems highly unlikely that will happen now.
The order listed below is based on a combination of factors: the player's impact should he be traded, the likelihood of a trade occurring, the "asset value" of the player on his current contract and the level of compensation likely demanded by the player's current team as part of the swap.
O.G. Anunoby
The Raptors at least seem to be willing to listen to offers on Anunoby. And if the team does get serious about moving him before the deadline, he'll become the most popular player on the market due to his age (25) and skill set. Anunoby is arguably the best defensive wing in the NBA right now and is capable of guarding the opposition's best player one through five. He's also a terrific help defender, forces a ton of deflections and turnovers and will thrive in playoff settings.
He also is developing into an offensive weapon, averaging 18 points per game on 47 percent from the field and 37 percent from 3, and has become far more comfortable attacking off the dribble and in ball screens. He still hasn't hit his ceiling as a player, and teams would have him for two potential playoff runs before he becomes an unrestricted free agent. If the Raptors decide to entertain trades, the price tag should be relatively similar to what Jrue Holiday drew in 2020: two first-rounders and two pick swaps. He fits on every team in the NBA, but particularly fits best on teams that are one piece away given his defensive acumen and shooting.
Kyle Kuzma
Kuzma is having a career year, averaging 21 points, seven rebounds and four assists per game. He has taken a leap since proving he could be part of a defense-first NBA champion with the Lakers in the bubble. But Kuzma is on an expiring contract that practically isn't extendable under the current collective bargaining agreement because his salary this season is too low.
If a team is going to give up assets to acquire Kuzma, it needs to do so knowing the 27-year-old will hit unrestricted free agency this summer. A first-round pick and a prospect seems like the right price tag here, but Washington tends to march to the beat of its own drum. Having moved Hachimura to the Lakers, the Wizards are reportedly telling teams that Kuzma is not available. Not moving Kuzma now because you're signaling your intention to re-sign him in the summer is a concerning way to abandon all of your leverage within a free-agency negotiation.