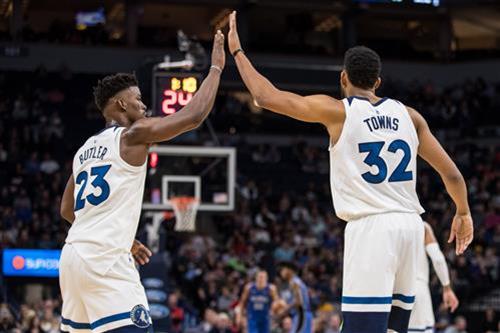 After the Minnesota Timberwolves traded Zach LaVine, Kris Dunn, and the pick that became Lauri Markkanen to the Bulls for Jimmy Butler, it was looked at as a success, because Butler was that piece that finally got the franchise back to the playoffs.
Things quickly fell apart in the offseason when reports stated how Butler was "all but fed up with the nonchalant attitude of his younger teammates," specifically center Karl-Anthony Towns. It was also announced that he wouldn't sign a contract extension with the team.
Now it seems something else made the relationship between Butler and KAT go off track and it has to do with a woman.
Via BSO:
"While some say he simply wants to be the MAN in a bigger market, internet detectives have another theory on why he wants out and his strained relationship with KAT. According to the theory Jimmy Butler slept with KAT's girlfriend Kawahine Andrade. Around the time it supposedly took place in May, KAT mysteriously stopped posting her on IG and vice versa. The internet detectives came to this conclusion after this T-Wolves birthday post to Butler."