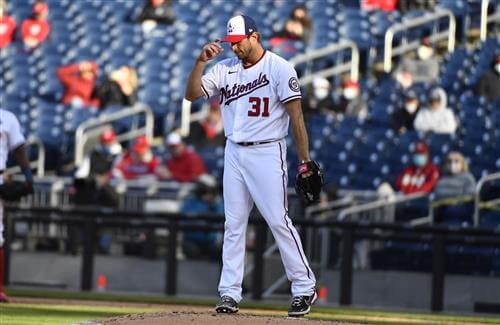 Washington Nationals ace Max Scherzer continues to defy Father Time, still performing as one of the best pitchers in MLB in his age-36 season. As the future Hall of Famer nears the end of his legendary career, with the Nationals sliding down the MLB standings, trade chatter is already starting.
It's been a rough start to the 2021 season for Washington. After being sidelined multiple days due to COVID-19, the team finally returned after a late start. Things haven't got much better for the club, entering play on Friday with a 7-9 record. With Patrick Corbin and Stephen Strasburg showing alarming signs of decline after carrying the club in the 2019 postseason, many have started wondering if the Nationals will be sellers this summer.
While the 2021 MLB trade deadline isn't until July 30, people around MLB are already thinking about the possibilities. Namely, hoping that Washington decides to launch into a rebuild by trading Scherzer. While the three-time Cy Young Award winner has 10-and-5 rights, allowing him to block a trade, that might not be much of a hurdle to overcome.
According to MLB>com's Mark Feinsand, there is a belief from those close to Scherzer that he would be open to a trade this summer. If the Nationals aren't competing and there's no realistic shot at a World Series title, he would be receptive to playing elsewhere.
"Max is a competitor. If he thinks he has a chance to win, I think he would be open to several scenarios."
MLB source close to Max Scherzer, via MLB.com's Mark Feinsand
The Nationals took an aggressive approach this winter, trading for Josh Bell and signing Kyle Schwarber. But the team is still struggling and if the woes continue, there will be no shortage of landing spots for a Max Scherzer trade.
Max Scherzer traded to New York Yankees
The New York Yankees need pitching. While many believed they had one of MLB's best rotations entering the 2021 season, it only took a few weeks before that was disproven. There are plenty of issues the Yankees must address this summer, but it is really lacking a co-ace to pair with Gerrit Cole.
Entering play on Friday, the Yankees starters ranked 19th in ERA (4.39), 17th in WHIP (1.27) and surrendered the fifth-highest hard-hit rate (34.3%) in baseball. Cole isn't the one dragging this rotation down. Across four starts, New York's No. 1 starter boasts a 1.82 ERA, 0.81 WHIP and an outstanding 14.2 K/9. On the other end of the spectrum, Corey Kluber (5.40 ERA, 1.93 WHIP) and Domingo German (6.23 ERA, 1.69 WHIP) have been disasters.