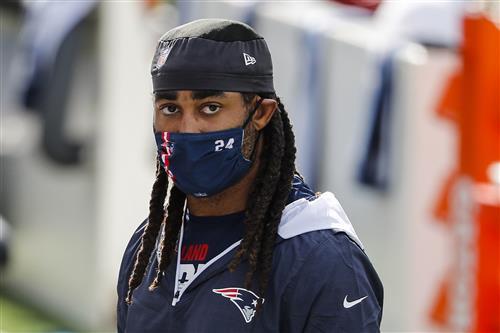 The NFL Draft countdown is on for the New England Patriots and 31 other teams. With talks swirling about the need for a QB, the Boston Herald's Andrew Callahan proposed a huge trade that would position the team for one of the draft's top signal-callers.
Callahan acknowledges the Patriots can go multiple routes with this year's draft spot and their current assets. However, knowing that the option to trade up is a viable one, Callahan hatched an intriguing deal that would see the Patriots parting ways with former NFL Defensive Player of the Year, Stephon Gilmore, and draft assets for the Atlanta Falcons' No. 4 selection.
The Patriots-Falcons Trade Proposal
Here's a breakdown of the deal:
The Patriots would receive: 4th overall pick from Atlanta
The Falcons receive: the Patriots' 15th overall pick, the 46th pick, a 2022 first-round selection, and Gilmore
That is a stiff price to pay for any player, even a potential franchise QB. Callahan explains why he believes the Patriots would have to part with so much to move up 11 spots.
"So what should it take to move up? More or less, what San Francisco surrendered." Callahan refers to the trade the San Francisco 49ers swung with the Miami Dolphins two weeks ago that moved the former from the No. 12 pick to No. 3.