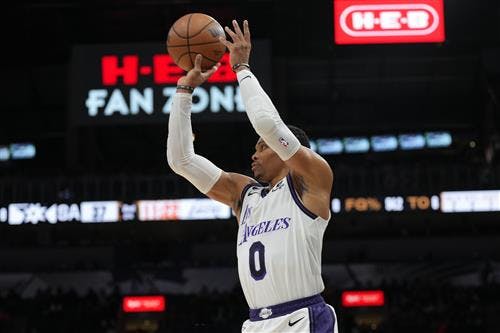 Trade winds are blowing in Laker Land again because, well, this franchise is a speculation factory first and a basketball team second at the moment.
Multiple sources told The Athletic's Jovan Buha that the Los Angeles Lakers are "weighing three different paths" to noticeably improving their roster. They are as follows:
Path 1: "Trade Russell Westbrook, plus a pick or two, for a star or multiplayer haul."
Path 2: "Trade some combination of Patrick Beverley, Kendrick Nunn and picks (one first-round and/or multiple second-round picks) for role players who better address needs and upgrade the rotation."
Path 3: This route entails separate deals. "One with Westbrook plus one first-round pick, another using a Beverley-Nunn-pick package."
Naturally, we are all morally obligated to cobble together hypothetical deals that fall under each of these umbrellas. These are mine.
Path 1: The Star Route
Los Angeles Lakers Receive: Oshae Brissett, Buddy Hield, Myles Turner, Cleveland's 2023 first-round pick (lottery-protected; turns into two seconds if not conveyed)
Indiana Pacers Receive: Damian Jones, Russell Westbrook, Chicago's 2023 second-round pick, Lakers 2027 first-round pick (unprotected), Lakers 2029 first-round pick (unprotected)
Some version of Turner-to-the-Lakers has been discussed approximately 4.9 kazillion times. There's a reason for it.
Turner is the closest acquisition to a star the Lakers can reasonably chase without almost assuredly getting outbid. Dangling swaps in 2026 and 2028 on top of 2027 and 2029 firsts sounds like a lot in theory. And it is. But other teams will offer more for someone like Bradley Beal or Zach LaVine.
Maaaybe that package gets you into theoretical Beal sweepstakes since he has a no-trade clause. But neither he nor the Washington Wizards have given any indication they wish to dissolve the marriage once he's eligible to be moved on Jan. 15.
A Jimmy Butler trade demand could be interesting for the Lakers. He is 33 with three seasons and an estimated $146.4 million left on his deal (including a 2025-26 player option worth $52.4 million). Both are prohibitive numbers for prospective suitors. But another team might still come over the top of the Lakers' best offer, and for now, this ventures too far into the Land of Make Believe.
Kyrie Irving trade scenarios loom. But the Brooklyn Nets are back above .500, and moving Kyrie risks alienating Kevin Durant, who is absolutely annihilating opposing defenses and already requested a trade once himself.
That brings us back to Turner, who's having his own monster season.
His scoring has never looked spiffier. Post-ups (15.8 percent) haven't accounted for such a high share of his offensive touches since he was a rookie in 2015-16 (21.9 percent), and his 1.21 points per possession in these situations is tied with Brook Lopez for the most among every player to match or exceed his volume. Turner is also downing 37.7 percent of his triples on modest volume (4.7 attempts per 36 minutes), and he's even dropped in some tough runners.