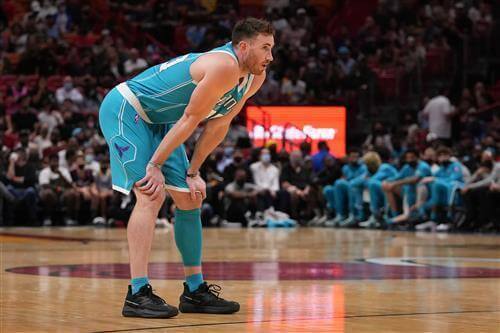 The NBA offseason is less than two weeks old, and we've already witnessed the birth and (likely) death of a "Kyrie Irving to the Los Angeles Lakers" rumor.
On draft day, ESPN's Adrian Wojnarowski and The Athletic's Shams Charania both reported on Irving's potential departure from the Brooklyn Nets. Wojnarowski even listed Irving's preferred sign-and-trade destinations, with the Lakers among them.
Four days later, Irving seemingly did an about-face and announced his intention to pick up a $36.5 million player option to stay in Brooklyn for 2022-23.
Of course, being on an expiring contract and not part of a sign-and-trade (which would "hard cap" his new team) might actually make it easier to move Kyrie, but Wojnarowski noted a mostly uninterested market on Monday.
In the wacky world of the NBA offseason, it's probably to declare anything impossible, but let's assume for now that Irving won't be reuniting with LeBron James.
That means L.A. has to look to some other possibilities to shake things up (running it back after missing the playoffs in 2022 feels like a terrible idea).
It will have access to the taxpayer's mid-level exception, which has a starting salary of $6.4 million. And in a summer with very little cap space available, that could actually go a long way.
The Lakers should probably be open to trading anyone not named LeBron or Anthony Davis, too.
Which targets are actually gettable? And what can the Lakers do to get back to contention as early as 2022-23? Scroll down to find out.
Re-Sign Malik Monk
Yes, a shakeup is probably necessary for the Lakers, but they can do that through trade. And one of the few bright spots from last season was floor-spacer Malik Monk.
Without access to his Bird rights (because he's only been a Laker for a year), though, L.A. would probably have to use its taxpayer mid-level exception to sign him, something Monk is open to.
"They might not be able to pay me as much as I want," Monk told The Athletic's Jovan Buha. "But I could be here and be way more comfortable as a Laker than going to any other team (that would pay) me $5 million more."
Last season, Monk averaged 13.8 points and 2.3 threes while shooting 39.1 percent from deep. And that floor spacing ability showed up in more than just the conventional box score.
When Monk shared the floor with LeBron, the Lakers were minus-0.1 points per 100 possessions. That doesn't sound great until you realize they were minus-4.3 when LeBron played without Monk.
There may be bigger names willing to play for $6.4 million in L.A., but it could certainly do worse than bringing Monk back.
Trade for Gordon Hayward
The Charlotte Hornets are one team that reportedly had "real" interest in Russell Westbrook, according to The Ringer's Kevin O'Connor.
Pairing him with LaMelo Ball and taking possessions away from the young All-Star seems like a bad idea, so perhaps the aim is to get sweeteners from the Lakers to take Westbrook off their hands. Maybe Hayward's contract ($61.6 million over the next two seasons) is onerous enough to justify taking on a year of Russ without picks.
Whatever the motivation, if it's legitimate, the Lakers should pursue it.
Hayward has had a terrible time staying on the floor over the last three years (averaging just 48.3 appearances per season), but his game would actually fit quite well with LeBron's.