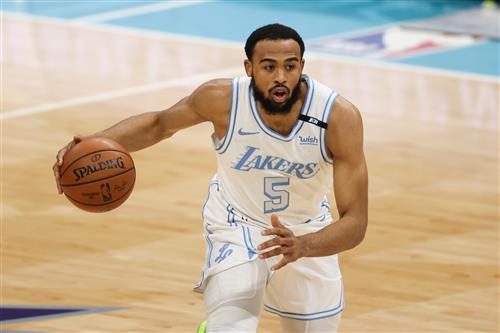 The Los Angeles Lakers are high on Talen Horton-Tucker, but some believe the franchise could sacrifice their future for a potential "win-now" deal. Horton-Tucker is a restricted free agent this offseason giving the Lakers an opportunity to match any offer the swingman receives. The promising free agent will have no shortage of suitors, and The Athletic's John Hollinger suggests the Lakers could explore a sign-and-trade instead of bringing back Horton-Tucker.
"Because Horton-Tucker was a rookie on a two-year deal, he is subject to the so-called 'Gilbert Arenas' rule — teams can only offer him the full MLE for the first two years of an offer sheet, which should be about $10 million a year," Hollinger explained. "However, it can rise all the way up to the max in years 3 and 4; this has actually happened, with Miami matching a Brooklyn offer sheet on Tyler Johnson for the entire Arenas-rule max in 2016.
"Forking out that much for Horton-Tucker would likely be regrettable, but he'd be a good get at more reasonable price points. Given L.A.'s other constraints and the Lakers' current timeline, it wouldn't be shocking to see him as part of a sign-and-trade that brings back another win-now piece."
Horton-Tucker averaged nine points, 2.8 assists, 2.6 rebounds and a steal in 20.1 minutes per game this season. At just 20 years old, there are plenty of reasons to think Horton-Tucker's game can make a significant jump in the years to come.