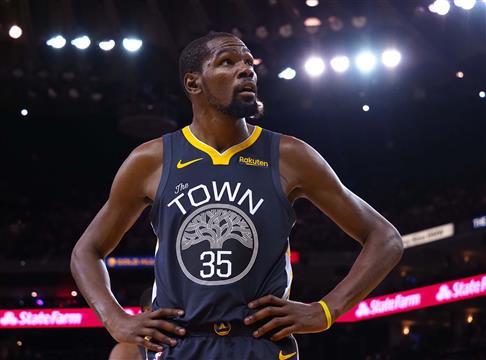 With each day that passes, a new and conflicting report comes to light about Kevin Durant's free agency future. However, we may have just received a report that will end a good amount of speculation -- according to Adrian Wojnarowski, Durant has narrowed his choices down to four teams: the Warriors, Knicks, Nets, and Clippers.
Durant is believed to be considering the Warriors, Knicks, Nets and Clippers, per @WojESPN https://t.co/IcJpsBfThh

— Bleacher Report NBA (@BR_NBA) June 26, 2019
This follows the breaking news from this morning announcing that Durant had declined his $31.5 million player option with the Warriors and was thereby officially headed to the open market.
Some are still expecting KD to re-sign with the Warriors and eventually be dealt as part of what would essnetially be a delayed sign-and-trade. That way, he can have some financial security while he rehabs, and Golden State doesn't lose its best player for nothing. But for now, there's reason to believe that if he does re-up with the Warriors, it will be for the long haul.