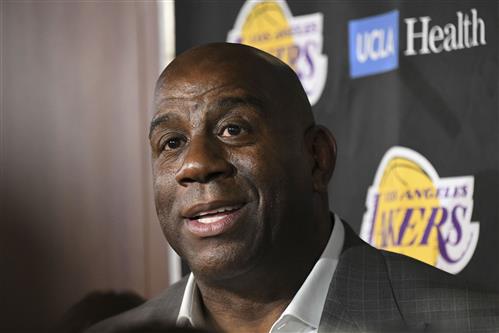 Kawhi Leonard reportedly had a "positive" phone call with Magic Johnson on Sunday to talk about the Los Angeles Lakers as a potential free agency destination, and it sounds like the top free agent on the market was able to gather some promising information covering what he wants to know about the team.
During an appearance on Spectrum Sportsnet, Broderick Turner of The L.A. Times laid out some of the details of that conversation, including that Leonard's camp has spoken with Lakers general manager Rob Pelinka, who may or may not be included in the Lakers' official free agent pitch meeting with Leonard:
"The first thing that I'll start with is that Kawhi and his uncle, Uncle Dennis, they talked to Magic several times. They've also talked with Rob Pelinka. They want to meet with Jeanie Buss and Magic. Magic can't meet with them when Jeanie is in the room, or if Rob Pelinka is also invited... The NBA rules are kind of stipulating that you can bring anyone with that's a non-employee, but because Magic worked for the Lakers, because they've been hit with tampering fines (he can't be in there with them)."
Turner also provided the first details we've gotten to this point regarding what specifically Leonard and his camp wanted to learn from their conversation with Johnson:
"There was one interesting question (Leonard) had for Magic: 'Did you guys try to trade for me when I was in San Antonio?' And the answer was 'yes, but because it was Gregg Popovich and the San Antonio Spurs, and our history, they were asking for 2,000 draft picks -- well, not 2,000 -- like four draft picks, first-round draft picks, and we just couldn't do that.' And that was one of his questions.
"The uncle's questions were 'what's really going on in the organization between you, Jeanie, Rob Pelinka, everyone? Is it as dysfunctional as we're reading and hearing?' And the response was 'we had some issues, but we're past that. I'm past that. We're still a family, such as you fight with your brothers and sisters sometimes, well, I had somewhat of a disagreement with my sister. And Rob Pelinka, yes, I said he was a back-stabber, but that happened then. Now I want the Lakers to be a championship team. Having Kawhi here would do that.