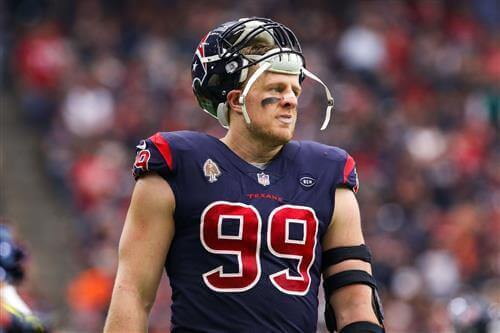 The Houston Texans better hope that the NFL doesn't decide to require face shields this year, because if that happens, J.J. Watt might end up sitting out the season.
During an interview with Pro Football Talk this week, Watt made it clear that skipping the season would be an option for him if he has to wear a protective face shield. Apparently, the Texans pass-rusher once wore a visor over his helmet early in his career and he hated it so much that he doesn't ever plan on doing it again.
"My second year in the league I thought it'd be cool, I put a visor on my helmet," Watt said Wednesday. "I was like, 'It looks so cool, I wanna put a visor on.' I had it on for about three periods of practice and I said, 'Take this sucker off I'm gonna die out here.' ... So now you're gonna put something around my mouth? You can keep that. If that comes into play, I don't think you're gonna see me on the field."
It will be interesting to see if Watt stands by his statement, because face shields are something that could happen. With less than two months to go until the start of the season, the NFL and the NFLPA are still trying to figure out what kind of safety protocols should be put in place to protect players. One option that's being considered is that all players would be required to wear face shields in order to minimize the possible spread of coronavirus. The NFL has spent the offseason testing different types of protective masks, but it's not yet clear if the league will require players to wear them.