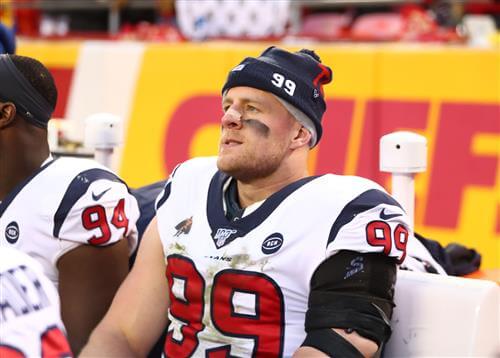 JJ Watt's time as a free agent appears to be approaching its conclusion with three teams emerging as his potential future employers. The front-runners to sign Watt are the Green Bay Packers, Buffalo Bills and Tennessee Titans, per NFL Insider John Clayton.
Watt's interest in the Packers is not a surprise, considering he played for the University of Wisconsin and he's a Pewaukee, Wis. native -- along with growing up a Packers fan. The Packers have reached the last two NFC Championship Games and could use some help on a defensive line that has recorded 82 sacks over the past two seasons (tied for eighth-most in the NFL). Adding a player of Watt's caliber could be enough to get Green Bay to the Super Bowlin a loaded NFC.
The Bills and Watt have shown mutual interest and Buffalo would be an ideal fit for the three-time Defensive Player of the Year. Buffalo plays four down linemen, which plays toward Watt's strengths on the defensive line. Buffalo is another team that reached its conference championship game last season, tying a franchise record with 13 regular-season victories. The Bills finished with just 38 sacks last season, tied for 15th in the NFL, so adding Watt would be a major boost to the pass rush.
The Titans are a bit of a surprise finalist, considering Watt's ties with the Pittsburgh Steelers (his brothers play there) and Watt reportedly "seriously considering" the Cleveland Browns over the past week.