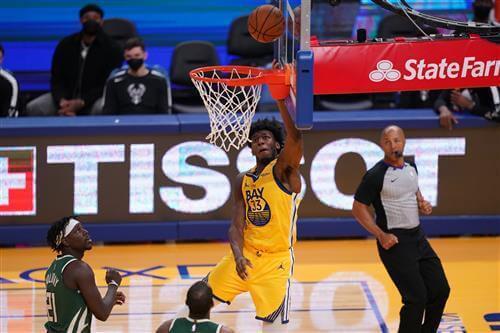 The Golden State Warriors are nearing a crossroad, and one insider says the team may need to part ways with one of their most promising young players in order to take the path that leads to another NBA title.
This season, the Warriors have been able to remain the edges of the playoff race thanks almost entirely to the heroics of Steph Curry. The future Hall of Famer has turned in one of the most effective seasons of his career, achieving numbers nearly identical to those from his unanimous MVP season including a stretch of 11 consecutive games with 30 points or more. But the Warriors could waste the remaining years of Curry's prime if they don't change their approach and part ways with some valuable assets, says Wes Goldberg of the Bay Area News Group.
Appearing on the "Warriors Off Court" podcast with the San Francisco Chronicle's Connor Letourneau, Goldberg said the team will soon be nearing a critical decision. Curry's unexpectedly good season has been fun to watch, he says, but will likely go to waste as the rest of the team lacks the talent to launch another run at a title. That means the team must be willing to make some tough decisions in the coming season in order to surround Curry with veteran talent needed to go for another title.