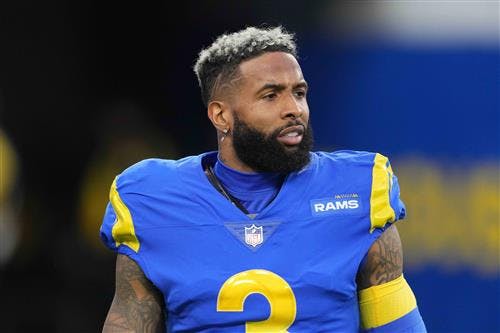 Let's call a spade a spade right out of the gate. Odell Beckham Jr.'s one-handed catch against the Dallas Cowboys is one of the most acrobatic catches in NFL history. It's so good, the NFL's YouTube channel has over 8.3 million views of that highlight video alone.
That catch is what put Odell Beckham Jr. on the map as a breakout rookie in the 2014 season – a season where the 12th overall pick out of LSU amassed 1305 yards, and 12 touchdowns on 91 receptions in just 12 games. He won Offensive Rookie of the Year and for good reason.
That catch was so good, he even had Drake saying, "Just when shit look out of reach / I reach back like one, three."
That's how you know you've made it.
The OBJ Reality
The NFL is a what have you done for me lately kind of league. That great catch is now over seven years old; Beckham Jr is now 30 and he apparently can't stay awake on an airplane.
On the field, over the last two seasons, Beckham Jr. has caught 67 passes for 856 yards and eight touchdowns. Yes, he caught five touchdowns for the Rams last season on route to winning a Super Bowl – but he tore his fucking ACL.
I know we've seen plenty of ACL injuries to star players over the years only to have them come back stronger (see Joe Burrow, Saquon Barkley, Tom Brady, and Adrian Peterson) but I just cannot put OBJ in the same category as these guys.
Maybe it's the fact that I feel like OBJ is more hobbled than he really is, or maybe it's because in today's NFL, it's about speed and I'm not sure Beckham Jr. is still that half step quicker than the opposing cornerback.
Where Will OBJ Land?
Only time will give us the answer to this question, but what we do know is that OBJ is set to visit the Giants this Thursday and Friday. He'll then visit the Cowboys on December 5 and then at some point after that he'll head to Buffalo for a visit.
Each team has come out and said they are very invested in securing his signature. OBJ has also been recruited on social media by the likes of Dak Prescott and Jerry Jones, Saquon Barkley, and Von Miller. Simply put, he's a hot commodity.
My question is WHY?
Predicting fit and production for each team
Giants
Let's start with OBJ's first team, the New York Giants. The Giants continue to employ Daniel Jones as a quarterback and the passing game sits 28th in the league with just 180.3 yards per game. You're telling me that aside from the feeling of nostalgia for "the good ol' days", you believe that Beckham Jr. can help the Giants' passing attack reach another level and help them go deep into the playoffs.
I'm not buying it. He will not blow the top off the defense and outside of some mismatches, I don't envision him doing anything to write home about. If I'm the Giants, I'm sure there are far better ways to spend that potential money.
Cowboys
This may piss a lot of people off, but what's the point of the cowboys signing Odell Beckham Jr. if they just got rid of Amari Cooper?
Here me out – Cooper and OBJ are essentially the same person if you look at the career statistic to date and Cooper broke into the league a year later than Beckham Jr. Sure, injuries have played a huge part in Beckham Jr's career, but the greatest ability an athlete can have is availability.
Can OBJ help the Cowboys' offense this year? Perhaps. He won't be the focal point on offense, and he'll give the team another veteran presence. That's about it.
I believe Jerry Jones simply wants to sign OBJ for the sake of saying he signed OBJ. I just don't see a fit here.
Bills
I respect the Bills for doing their due diligence and at least showing some interest in Odell Beckham Jr. The Bills' offense does not need him. But they wouldn't exactly be wasting their money either.
The Bills offense' is a machine and having Odell Beckham Jr. playing at whatever level he's capable of will go a long way for a team looking to get back to the AFC Championship game and beyond. A three-receiver set of Stefon Diggs, Gabe Davis, and Odell Beckham Jr, with Josh Allen's rushing ability is a scary thought for opposing defensive coordinators.
I'm not saying him and Allen are going to go nuclear and he's going to catch a handful of touchdown passes, but having Allen throwing you the ball is the best situation of the teams he's visiting.
Again, Odell Beckham Jr. is more of a name brand that teams are buying into than a difference-making wide receiver and the situation he puts himself in will tell us a lot about how he's going to perform.