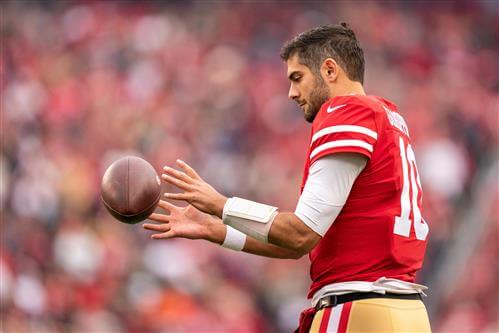 The Jimmy Garoppolo-to-New-England-Patriots trade speculation won't ever die, at least not until he takes his first snap in 2021 as a member of the San Francisco 49ers.
Most recently, ESPN personality Mike Greenberg, the host of Get Up, suggested the prime time for the Patriots to make their move for Garoppolo could be on draft day. Greenberg suggests "the moment the 49ers select a quarterback" with the third pick in the NFL Draft, Garoppolo's trade value will drop considerably.
As Greenberg suggests, the cost to acquire Garoppolo should be in a range where Bill Belichick feels comfortable making a move. ESPN's Field Yates, who was on the panel for this episode, rebutted and refuted Greenberg's trade concept.
He suggests the best time to trade Garoppolo has passed and that it is more likely the 49ers go forth with their veteran quarterback as the starter while grooming the player they take with the No. 3 pick.