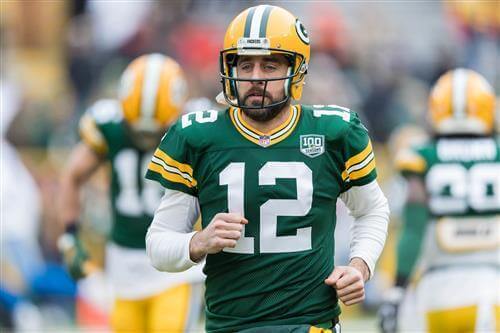 Aaron Rodgers wants out of Green Bay, but he has three years left on his contract and the Packers have no plans to trade him.
General manager Brian Gutekunst, coach Matt LaFleur and team president Mark Murphy have all spoken publicly about how badly they want Rodgers back in Green Bay since the story broke April 29. It seems as if Rodgers feels just as strongly about never playing again in the only jersey he's worn in his 16 years in the NFL.
Read More- Do Packers prefer an Aaron Rodgers retirement to a trade?
Because trade offers are sure to come in over the coming weeks and months, even if Gutekunst has been adamant he will accept none of them, we put the beat writers of three teams that are potential trade destinations for Rodgers to the test. Broncos writer Nick Kosmider, Washington writer Ben Standig and Raiders writer Tashan Reed each offered Packers writer Matt Schneidman a deal for Rodgers, with Schneidman playing the role of the Green Bay GM.
Beat writer Matt Barrows declined to make an offer for the 49ers, among the teams Rodgers is reportedly interested in joining via trade, after San Francisco selected Trey Lance with the No. 3 pick in last week's NFL Draft. Barrows said the 49ers' plans "would be to make an inquiry, monitor the situation and be in the background of conversation in case a just-can't-pass-on-it opportunity rose up. But the Packers seemed to make it clear they don't want Rodgers going there."
Here's how it all went down.
Denver Broncos
The Broncos have written the script on riding into the orange-hued sunset. John Elway, forever the bridesmaid through the first 14 years of his Hall of Fame career, catapulted into retirement with back-to-back Super Bowl wins — the first coming against the heavily favored Packers, of course — to close his career. Peyton Manning, whom the Broncos landed in 2012 after perhaps the most important free-agent chase in NFL history, put an exclamation point on his storied career by helping Denver win its third championship in 2015. So if we are making this pitch from a storyteller's perspective, what better place is there for Rodgers to chase glory in his final years as a professional football player?
The Packers, of course, won't give a damn about the story if they do decide to trade Rodgers. They will only care about getting the best return possible. Denver needs a quarterback upgrade. The Broncos are set to enter training camp with a competition for the starting job between Drew Lock and Teddy Bridgewater. Neither quarterback played inspiring football in 2020, when Lock led the league with 15 interceptions while completing only 57.3 percent of his passes and Bridgewater threw only 15 touchdown passes in 15 starts. The Broncos are young and talented. With a major upgrade at quarterback, they are a playoff team and one that could entertain championship notions.
Here's what the Broncos are offering in this exercise:
WR Jerry Jeudy, TE Noah Fant, a 2022 first-round pick and 2023 first- and third-round picks
These would all be tough assets for the Broncos to part with. The picks, even though they would likely be toward the back end of each round, are still valuable for a team trying to add high-upside depth at multiple spots. Jeudy (2020) and Fant (2019) were chosen in the first round and have flashes of big-play potential. The Broncos would still have Courtland Sutton, K.J. Hamler, Tim Patrick and rookie Seth Williams among their receivers, and Albert Okwuegbunam offers the Broncos many of the same skills Fant does. That should be enough for Rodgers to work with.
With Green Bay preparing to turn the ball over to Jordan Love, it makes sense to give him young players he can grow alongside. Importantly, the Packers would be getting two players on their rookie deals, key for a team being squeezed by the salary cap.