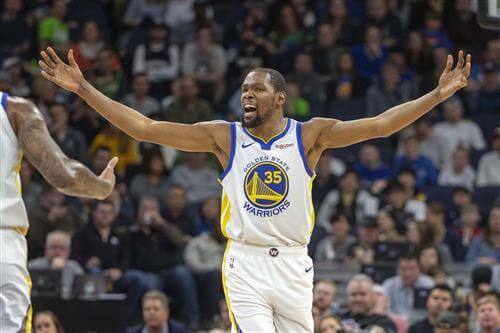 Kevin Durant is not exactly the most likable player in the NBA. He sort of has that love-him-or-hate him vibe going for him, and is certainly one of the most polarizing superstars in the league.
This wasn't always the case for Durant, though. During his younger years, he once held an image of being a meek and mild-mannered individual. So much so, that Nike even did a "KD is not nice" campaign to kind of change his reputation to a more ruthless competitor, if you will. Things went a bit overboard from there, and since then, he has developed a bit of beef with some of his former teammates. Below we've rounded up a few of them for your personal enjoyment.
1. Kendrick Perkins
Kendrick Perkins is without a doubt Durant's biggest adversary in the NBA — not only among former teammates but the whole league (and perhaps even every basketball personality) as well.
These two used to be teammates with the Oklahoma City Thunder for four years, but their beef started after their stint together. Perkins once called out Durant as doing the "softest move ever" when the latter decided to sign with Golden State Warriors back in 2016. Durant took that one personally and attacked Perkins' lack of contribution for the Thunder during his time in OKC.
More recently, these two went at it again on the mean streets of Twitter. Durant came to the defense of Brooklyn Nets teammate Kyrie Irving, who Perkins heavily criticized for Irving's unwillingness to support the NBA's bubble idea in Florida. Durant called Perkins a "sell-out," which led to Perkins crying on national TV during a Stephen A. Smith interview.
2. Russell Westbrook
Durant and Russell Westbrook once formed one of the most formidable pairings in the NBA during their time together with the Thunder. These two led Oklahoma to a memorable trip to the Finals back in 2012.
These two had a very close personal relationship too, which is exactly why Westbrook was absolutely ticked off when Durant decided to turn his back on the Thunder to join one of their biggest adversaries in the Warriors. This resulted in a number of fiery encounters on the basketball court, some of which even seemed to have been heading over the edge had it not been for the intervention of other players on the court. Talk about bad blood.