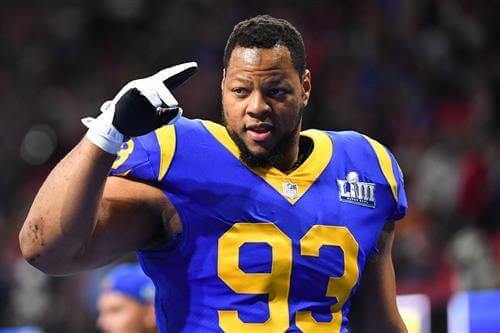 Ndamukong Suh may not be the terror he once was, but you can do a whole lot worse on the interior of a defensive line.
That's exactly why the Los Angeles Rams shelled out $14 million for the ex-Detroit Lions and Miami Dolphins star to play one season under Wade Phillips, and it's why Suh had a starting role during Super Bowl LIII in February.
On March 13, the veteran defensive tackle is set to hit the market again. Few linemen have had success cashing in like Suh has thanks to the former No. 2 overall pick's old $114 million deal with Miami. And while the five-time Pro Bowler may not equal his 2018 salary entering his age-32 season, it stands to reason that he'll play it safe with another short-term, high-paying deal -- presumably for a contender, considering his interest in the Rams and desire to highlight his career with a championship.
Here, we've ranked five of the most likely landing spots for Suh in 2019:
Cleveland Browns
If this isn't enticing for both Suh and the Browns, then somebody's doing something wrong. You'd be hard pressed to find a team in the AFC with as much up-and-coming promise as Cleveland, and the Browns are dripping with cap space under general manager John Dorsey. They could also definitely use an upgrade on the inside. While Cleveland isn't, say, New England in terms of contender material, Suh might have a hard time finding a better all-around opportunity than in the AFC North.
Indianapolis Colts
If you've seen the Colts speculated as suitors for a number of other big-name free agents, that's because, well, with the kind of money they have, they cannot be counted out of any star's sweepstakes. We know Suh is OK taking short-term deals if the average salary is high, and that's exactly the kind of deal Indy could offer -- and would probably feel comfortable doing. Like the Browns, the Colts are another up-and-coming playoff contender, and they could use a veteran, disruptive presence on their young defense.