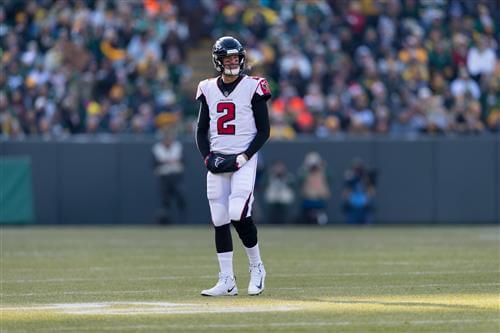 Could the Atlanta Falcons trade star signal caller Matt Ryan? It's a question that will be raised on the NFL rumor mill for the next several months after Atlanta fired head coach Dan Quinn.
Falcons owner Arthur Blank would not commit to Ryan beyond the 2020 NFL campaign, leading to rumors that a trade could actually take hold. In reality, Blank will leave this decision up to the Falcons' next head coach, general manager tandem.
If the 35-year-old Ryan is indeed put on the trade block, rumors will certainly link him to multiple contending teams around the NFL. That starts in Northern California and continues further east in Big D.
Related: NFL trade rumors
Matt Ryan to the San Francisco 49ers
Let's look at the most obvious Ryan trade scenarios. Ryan, 35, enjoyed his best season under Shanahan when the now-49ers head coach was the Falcons' offensive coordinator back in 2016. That season saw Ryan complete 70% of his passes for nearly 5,000 yards with 38 touchdowns and seven interceptions en route to leading Atlanta to the Super Bowl and earning the NFL MVP award. From an on-field perspective, this fit makes too much sense.
There's also a $137.5 million elephant in the locker room in Santa Clara. Despite leading the 49ers to a shocking Super Bowl appearance last season, it's not yet known whether Jimmy Garoppolo is the long-term answer. He struggled in said Super Bowl this past February and has not looked great in limited action this year. San Francisco can get out from under Garoppolo's contract this coming offseason, either via trade or release, saving north of $24 million against the cap. That's where Matt Ryan comes into play.
Matt Ryan to the New England Patriots
We previously focused on Ryan to the Patriots trade scenarios. Cam Newton was playing at a high level for Bill Belichick and Co. before coming down with COVID-19. In no way does this mean he's the long-term heir-apparent to Tom Brady with the Patriots. Newton likens his experience in New England on a one-year deal as a business trip. He's likely going to be looking at other options in free agency come March.