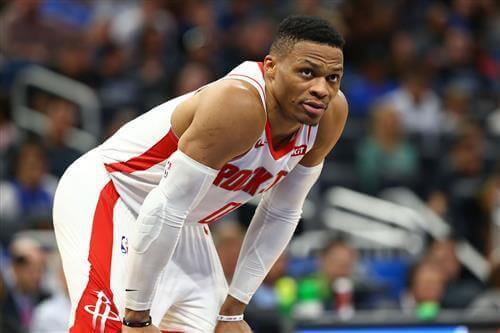 It's wild to think about trading either of the Rockets' two former MVPs in James Harden and Russell Westbrook, but the reality could mean that's the best move for the franchise that's experienced plenty of turmoil. We alrady broke down potential Harden moves, so it shouldn't surprise anyone that the thought of the Rockets blowing things up is fresh in everyone's minds at the moment.
The real question is should they do it? With Daryl Morey out as GM, nothing would really come as a surprise and with Covid-19 expected to impact the financial future of the salary cap and the league, we might see some weird stuff over the next few weeks. Could the Bucks use a Westbrook trade to try and keep Giannis happy? What about the Knicks trying to make a splash? We all know the NBA offseason can get unpredictable, so nothing should be ruled out.
Harden and Westbrook only have one year together that resulted in a second-round exit from the playoffs, but even that short burst together could be all there is in this chapter for Houston. If the Rockets do decide to enter the rebuilding phase and trade Russell Westbrook, here are five options they could potentially consider.
Russ Teams With Giannis
Houston's outlook: The Rockets are able to get off a chunk of Westbrook's money and grab a first-round pick in the process of doing it, which is a win for the front office. Brook Lopez is going to cost a bit more than Houston would probably like, but he does have value if the Rockets wanted to flip him. Eric Bledsoe's contract isn't a very good one right now, but Houston should go into next season with an outlook similar to that of Oklahoma City with Chris Paul last season. If he has a great year and that contract becomes one year shorter, he suddenly has a positive value.
Milwaukee's outlook: Is Westbrook a perfect fit in Milwaukee? Absolutely not. He's not a great shooter from the outside and not a great defender, either. But what Westbrook does represent is Milwaukee going all in on winning this year with Giannis Antetokounmpo. This offseason Antetokounmpo has the opportunity to sign a supermax extension with the Bucks, and if he doesn't he will become a free agent next summer. The Bucks need to exhaust everything in their power to win a championship in 2021, and if they don't it could mean bad news for their hopes of retaining the two-time MVP.
Russ in New York
Houston's outlook: They're able to get off of half the huge Westbrook contract and getting a protected first-round pick (Dallas' pick) from New York is an added bonus here. Julius Randle might have some value in a trade, too.