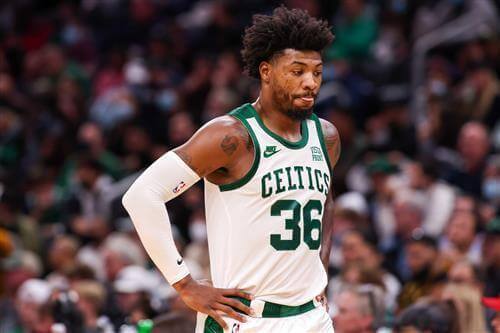 The NBA season is in full effect and we have already seen some major moves made this offseason. These have been massive roster moves, with Russell Westbrook finding a new home in Los Angeles while the Washington Wizards and Chicago Bulls completely revamped their rosters. There could very well be even more player movement before this season's trade deadline.
In fact, 10 NBA players are most likely to be moved this season. In a league of players that not only encourages movement but value it the most, these 10 guys could very well be on different teams in just a few months. Clearly impacted by lack of winning or inability to play well in their current settings, here is the list of all 10 players who could be moved, and their most likely destinations.
10. Kevin Love
Possible Destinations: Denver Nuggets, Portland Trail Blazers
Everybody following the NBA knows that the Cleveland Cavaliers want to tank and Kevin Love is not in their plans. Kevin Love is averaging 10.8 PPG and 7.9 RPG this season and is clearly one of the better stretch big men in the league when his shots are falling. But the Cavs need to get rid of Love's contract to rebuild, and his style doesn't help a tanking team. That is why, as many predict, Love could be bought out to save the Cavs some money.
The Nugget could be an option, as they need to find more big man depth with Nikola Jokic experiencing injuries and suspension. They cannot rely on a single player, so Love can add some size and shooting to a team that wants to contend. A lineup with Jokic and Love also stretches the floor at all spots, making Denver even more dangerous on offense. Portland could also use Love's shooting, meaning they can also have 5 guys who can shoot the ball on the floor. Portland want to find any way to get back to the Western Conference Finals, and taking a stab at Love could help them get closer.
9. Myles Turner
Possible Destinations: Charlotte Hornets, Minnesota Timberwolves
Myles Turner seems to always be in trade rumors because the big man clogs up the paint for the Pacers. Domantas Sabonis is an All-Star big man who can shoot and also score inside, so Turner and every other big man become expendable as a result. That does not mean that Turner is a bad player by any means because he does many things very well.
The 2-time Blocks champion is averaging 12.7 PPG, 7.5 RPG, and 3.0 BPG this year. Turner can space the floor, play defense, block shots, and knows his role very well. He truly belongs on a new team that needs his services because they do not come around very often. One team that comes to mind is the Charlotte Hornets, a squad that is developing in the Eastern Conference. LaMelo Ball is a star, and Miles Bridges could use a shot-blocking big man next to him to help his growth. Otherwise, the Timberwolves are shopping for a big man to help Karl-Anthony Towns down low as they prepare for a playoff push.