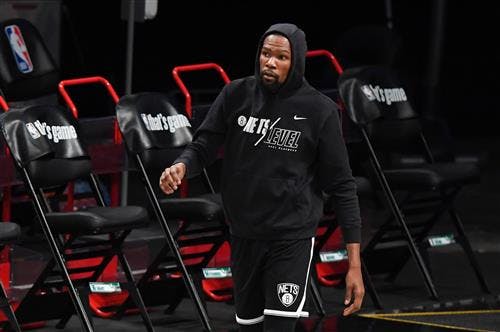 The NBA offseason still feels unsettled with Kevin Durant, Donovan Mitchell and other superstars still potentially on the move.
While star duos were becoming all the rage, the Golden State Warriors won the 2022 title on the back of their Big Three (or Big Four if you count Andrew Wiggins, or Big Five if you count Jordan Poole, etc.), which means more star power may be needed to compete for a title in 2023.
Using All-Stars who have already popped up in trade rumors, the following deals would create the newest Big Threes.
Donovan Mitchell Lands in DC
Washington Wizards Receive: G Donovan Mitchell
Utah Jazz Receive: G Johnny Davis, F Deni Avdija, F Rui Hachimura, G/F Will Barton, 2025, 2027 and 2029 unprotected first-round picks
While The Athletic's Shams Charania and Tony Jones reported that the Utah Jazz and New York Knicks have reengaged in trade talks surrounding Mitchell, they also mentioned the Washington Wizards as one of the teams pursuing the three-time All-Star.
This makes a lot of sense for a Washington team that still looks like a play-in squad even after it re-signed Bradley Beal. There's a lot of youth on the roster, although probably not enough minutes to go around for everyone to properly develop.
Consolidating these top-10 picks and draft capital in exchange for Mitchell would give the Wizards one of the NBA's most lethal offensive backcourts and push them back into the East playoffs.
A Mitchell-Beal guard tandem would feature plenty of scoring and playmaking, even if neither is a true point guard. The two would easily combine for 50-plus points and 10-plus assists per night, taking turns terrorizing defenses while getting more one-on-one opportunities, as teams wouldn't be able to double them.
While neither is a great defender, Kristaps Porzingis has become one of the best rim protectors in the league (opponents shot just 53.4 percent against him at the basket) and could help clean up a lot of their weaknesses. The 27-year-old averaged 22.1 points, 8.8 rebounds, 2.9 assists and 1.5 blocks in 17 games following his February trade to Washington and would be the final member of this new Big Three.
For Utah, getting three unprotected first-round picks is a great start, but there's a lot of young talent to utilize as well. Davis was the No. 10 pick out of Wisconsin this summer, Avdija and Hachimura were the No. 9 picks in 2020 and 2019, respectively, and Barton is on an expiring $14.4 million deal, so there's no long-term money attached.
The Wizards would have to make their 2023 first-round pick, which is owed to the Knicks, unprotected for the trade to go through.
New Big 3: Donovan Mitchell, Bradley Beal and Kristaps Porzingis (with a supporting cast of Kyle Kuzma, Corey Kispert, Monte Morris, Daniel Gafford, Delon Wright and Taj Gibson)
Lakers Buy Low on Ben Simmons
Los Angeles Lakers Receive: PG Ben Simmons, G/F Doug McDermott
Brooklyn Nets Receive: C Jakob Poeltl, G/F Josh Richardson, G Kendrick Nunn
San Antonio Spurs Receive: 2027 and 2029 unprotected first-round picks (via Los Angeles Lakers), 2023 and 2025 second-round picks (via Los Angeles Lakers), SG Max Christie, PG Russell Westbrook (to be bought out)
Klutch All-Stars assemble!
If there was ever a time to buy stock in Simmons, one of the NBA's best, most versatile defenders and playmakers, this is it. Pairing him with a mentor of his in LeBron James, someone who will forever get the majority of the praise and criticism and help get the attention off Simmons, is an ideal situation for the 26-year-old as he makes his return to the court.
Simmons can handle the ball and run the offense while reducing the workload for James, and he should also be fine with Anthony Davis and the four-time MVP taking the majority of the shots. For a Lakers team that slipped to 21st in defense last season, swapping out Westbrook for Simmons is a massive upgrade that allows Los Angeles to use all sorts of lineups.
Shooting is an issue with Simmons, so the Lakers also pick up McDermott, one of the best floor-spacers in the NBA (42.2 percent from three last season).
If Brooklyn plans to keep Kyrie Irving, it doesn't need another point guard like Simmons, especially with Patty Mills re-signing this offseason. Getting three starting-caliber pieces would help fill out the roster around Irving and Kevin Durant, which would possibly convince KD to drop his trade request.
Poeltl is a terrific defensive center, Richardson is a proven two-way wing and Nunn averaged 15.0 points per game and shot 39.2 percent from three as a starter in 2020-21.
For the Spurs to agree to take on Westbrook's $47.1 million expiring deal and give up some good veterans, there has to be a fair amount of draft capital and young talent coming back.
San Antonio collects four picks (including two unprotected firsts from L.A.) as well as Christie, the No. 35 pick in the 2022 draft. The move also clears $13.8 million in cap space off the 2023 books and increases the chance of landing Victor Wembanyama with the No. 1 overall pick.
New Big 3: LeBron James, Anthony Davis and Ben Simmons (with a supporting cast of Doug McDermott, Lonnie Walker IV, Talen Horton-Tucker, Thomas Bryant, Austin Reaves and Damian Jones)