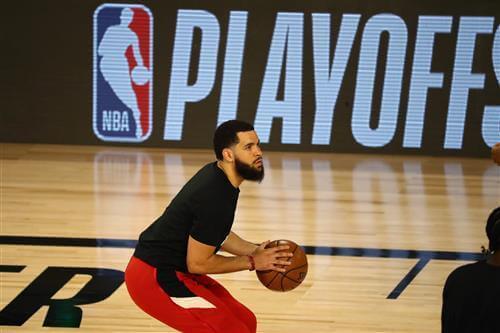 Like Serge Ibaka and Marc Gasol, there's a chance that Fred VanVleet won't be on the Toronto Raptors next season.
VanVleet enters the offseason as the best point guard available in free agency, as well as arguably the best free agent available if we assume that Anthony Davis is going to re-sign with the Los Angeles Lakers and Brandon Ingram is going to sign a max extension with the New Orleans Pelicans, both of which are safe bets.
Raptors president Masai Ujiri said recently that re-signing VanVleet is a "big-time priority," but there is a possibility that he gets a better offer from another team this offseason, especially if Toronto is determined to preserve its cap space for next offseason.
If VanVleet does leave, the Raptors will likely turn to free agency to find a replacement, either at point guard or shooting guard.
Here's who the Raptors could be in the market for if that does happen
Goran Dragic, Miami Heat (unrestricted)
After VanVleet, Dragic is the best point guard available this offseason. The 34-year-old received some votes for Sixth Man of the Year in the regular season and played a key role in Miami's run to the Finals, leading the Heat in scoring with 19.1 points per game through three rounds. Unfortunately for Dragic and the Heat, he suffered a tear of the left plantar fascia in Game 1 of the Finals, sidelining him for most of the series.
Jeff Teague, Atlanta Hawks (unrestricted)