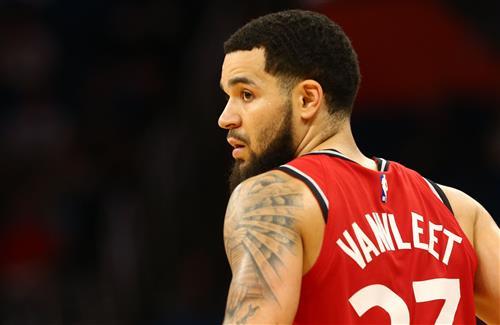 This is going to be a big offseason for the Toronto Raptors.
While they no longer have to worry about Pascal Siakam's contract extension, they have some decisions to make when it comes to the futures of Fred VanVleet, Marc Gasol and Serge Ibaka, each of whom will be unrestricted free agents at the season's end.
Of the three, VanVleet is the most interesting. Not only is he averaging career-highs of 17.6 points, 6.6 assists, 3.8 rebounds and 1.9 steals on 40.9 percent shooting from the field and 38.8 percent from the perimeter, he's the only one who is on a similar timeline as Siakam. He's also primed to carry the torch from Kyle Lowry whenever the day comes that he's no longer Toronto's starting point guard.
VanVleet has said before that he would re-sign with the Raptors "in a perfect world," but he's one of the better players available in this summer's free agency class. There are several teams that will likely be interested in signing him, although there are two in particular that make more sense for him than others, plus one wild card.
Let's take a closer look.
Detroit Pistons
The Pistons are in a rebuild. They still have Blake Griffin under contract for a couple more seasons, but moving Andre Drummond for Brandon Knight, John Henson and a future second-round pick at the trade deadline signaled that this team is now focused on the future, not so much the present.
In signing VanVleet, the Pistons would be getting a much-needed leader in the backcourt, one who still has his best years ahead of them. If Griffin is still on the roster by the start of next season, VanVleet gives the Pistons a creator and shooter next to the six-time All-Star. If Griffin isn't, VanVleet gives the Pistons a floor general who can get the most out of the team's younger talent, such as Christian Wood, Sekou Doumbouya, Luke Kennard and whoever they select in the 2020 NBA Draft.
VanVleet filling a position of need is one reason the Pistons make sense for him as a free agent destination. The other is that they are one of the few teams that will have cap space to lure VanVleet away from the Raptors.
It remains to be seen what the salary cap will be for 2020-21, but the Pistons currently have only $70.2 million committed to their roster for next season, Griffin ($36.6 million) and Tony Snell ($12.2 million) being their biggest earners. Based on the current cap, that gives Detroit the room to offer VanVleet a contract that pays him upwards of $20 million per year if they so choose.