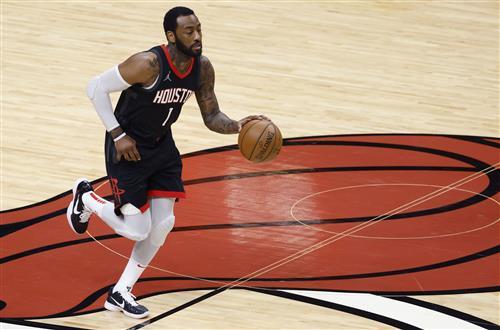 Amidst a flurry of NFL news and analysis this week, Shams Charania slipped in a breaking news report from the NBA. The Houston Rockets are trying to find a new team for John Wall, and Wall will not play until they do.
It is going to be a while, though. This is a weird time in the offseason to trade anybody since free agency and the draft have both happened. It doesn't help that Wall has a massive contract and salary, with two years remaining on a $171 million deal that will pay him $44 million this year and $47 million the next. He's coming off a decent season, all things considered; Wall averaged 20.6 points and 6.9 assists on 40 percent shooting from the floor in his first year seeing action after tearing his Achilles.
The production does not match the salary. Both sides seem content to sit and wait until some team is willing to bite, though. Houston doesn't want to let him leave for nothing and Wall probably doesn't want to give back any money on his contract, eliminating the buyout option for now.
Where might Wall end up? Here are four possible options.
Philadelphia 76ers
One year after these two teams failed to agree on a blockbuster deal for James Harden, Daryl Morey is back at the negotiating table with his protégé Rafael Stone. Is Wall a good fit in Philly? Not really. He can't shoot at a high level (31 percent last year) and needs the ball in his hands to play well. But he can shoot better than Ben Simmons, who also needs the ball in his hands to play well and is currently very displeased with the Sixers' front office.
If the rumors of what Morey is asking for Simmons are even somewhat true, there's no chance Philly settles for a Wall/Simmons swap straight-up. They just might not have a choice. If the Simmons situation carries over into training camp, it may very well be in the organization's best interests to get him the hell out of there and be happy with that. Simmons is definitely the best player Houston could get for Wall and fits with their timeline, while Philadelphia gets a better fit around Embiid and is off Wall's contract in two years. It isn't a likely scenario, but Simmons is the only big contract on the trade block right now to make a trade easy.