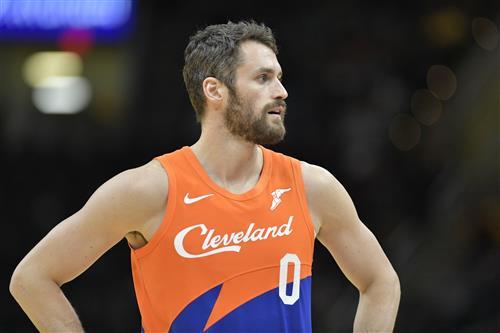 When Channing Frye shot off a tweet Sunday night expressing his desire for his former teammate Kevin Love to end up on the Portland Trail Blazers, the Internet was intrigued. Was this just a bored Frye thinking out loud? Or has Love expressed some desire to be moved to a contender as the Cavs continue to rebuild?
Whatever Frye's motive, it's not hard to imagine Love informing the Cavs, either before the 2019-2020 campaign begins or near the trade deadline, that he'd like to finish out his career playing for a playoff-caliber team. The Cavs are still multiple seasons away from legitimately contending for anything, and buy that time, Love will be on downside of his career. With that in mind, here are a few trades that intrigue is, and how the Cavs could get the most from trading their most talented player.
Portland gets: Kevin Love
Cleveland gets: Zach Collins, Nassir Little, Kent Bazemore, Future 1st round pick
It feels like the Trail Blazers have been running in place with the Dame Lillard-CJ McCollum duo for years now. The presence of Jusuf Nurkic pushed them to the peak of their powers last season, and losing him for the postseason was a huge blow. But even healthy, Nurkic probably doesn't push the Blazers to the top of the West. Adding Love would not only break the staleness of the locker room, but it would add a dynamic talent to play off the Blazers' elite backcourt.
The Cavs get to add another rookie wing to their stout draft class, get Zach Collins as he settles into his own and a future first rounder, likely in the mid-20s. The Blazers just flipped Evan Turner for Kent Bazemore, presumably for insurance on the wing, but it's possible they added him because he may be slightly more valuable in salary matching than Turner and would come off Cleveland's books in 2020.
Oklahoma City gets: Kevin Love
Cleveland gets: Steven Adams, Terrence Ferguson, and Hamidou Diallo
A team with Russell Westbrook and Paul George shouldn't be bowing out of the playoffs in the first round, but that's what happened to the Thunder in the last two postseasons. Love not only adds a presence to play through in the post and stellar passing ability, but his ability to step out and hit the three would give Westbrook and George the spacing they desperately need to operate at full capacity. For the Cavs, getting their hands on young wings like Ferguson and Diallo and seeing what they have in them would be the crux of the deal, while Adams would add the rim protection the Cavs aren't getting from anyone outside of Tristan Thompson.
Charlotte gets: Kevin Love
Cleveland gets: Nicolas Batum, Miles Bridges, 2020 1st round pick