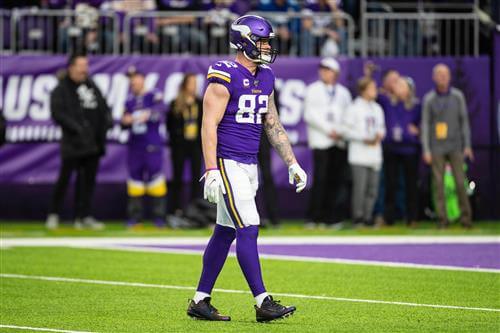 Kyle Rudolph is no longer a member of the Minnesota Vikings. After 10 seasons, the Vikings released the 31-year-old tight end on Tuesday, ending an era. During his time in Minnesota, Rudolph was selected to two Pro Bowls and became a leader on offense. While his numbers dropped off over the past two seasons he should have several teams interested in picking him up.
To be clear, Rudolph isn't the guy he once was, but he's still a reliable target and a red zone threat. The number of passes thrown his way plummeted over the past two seasons as he combined to grab 67 passes on 85 targets for 701 yards and seven touchdowns. He still has ability if utilized properly.
Here are four potential landing spots for Rudolph as he hits free agency for the first time.
New England Patriots
The Patriots rolled out the worst tight end group in the NFL last season. Between Ryan Izzo, Devin Asiasi and Dalton Keene, Pats tight ends totaled 18 receptions on 42 targets for 254 yards and one touchdown. Between those three and Matt LaCosse New England has four tight ends under contract but none of them have done anything notable at the NFL level. Rudolph has.
Bill Belichick & Co. hope Keene and Asiasi are the future, as both were third-round picks in 2020, but for the present the Pats need an established tight end to show the way. Rudolph isn't the dominant Pro Bowler he once was but he can still be a red zone target and go get balls over the middle. He'd be a great bridge pickup until the two young tight ends are ready.