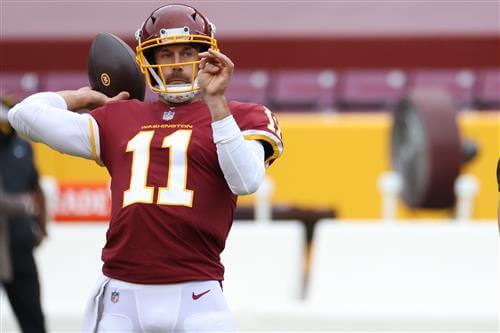 The Alex Smith story is not over yet. Two years after he suffered a catastrophic leg injury and suffered complications from surgery so severe the doctors weren't sure he was going to keep the leg, five months after stepping onto the football field in full pads again, three months after starting his first game since the injury, and weeks after winning the 2020 Comeback Player of the Year award, Smith will hit free agency. Ian Rapoport has the scoop.
Despite the good feelings that Smith's story brings to the surface, it isn't a huge surprise the Washington Football Team wants to move on. The entire organization (including the name) has changed since Smith's injury. A whole new group of people now occupy the building and sidelines. Smith himself said he felt the new leaders of the team weren't actually all that enthusiastic that he managed to come back.
So now the veteran QB hits free agency with the intention of playing again. He will be hard-pressed to find a starting job after throwing for 1,582 yards, six touchdowns, and eight interceptions in six starts last year. Those aren't terrible numbers, but they aren't very good and the eye test suggests that Smith's ability to consistently lead a team to wins is behind him at this point. But with the wild game of musical chairs Smith's fellow quarterbacks are playing this offseason, there will likely be places where Smith can at least compete to be the starter or have a chance to step in at some point during the season if things don't go as planned. Here are four potential suitors for Smith's services.
San Francisco 49ers
Smith's story sometimes feels like a movie with how far he had to go to recover and get back on the football field. A Hollywood ending would be finishing his career in San Francisco, where it all began. The Niners are committed to Jimmy Garoppolo for next year (publicly, at least), but there are few teams who understand the value of a quality backup than this organization; Jimmy G played only six games last year and three games in 2019. He has had only one healthy season as starter in the Bay. Kyle Shanahan seems to love current backup Nick Mullens but he didn't manage to get much done on the field in 2020.
Besides the fun aspect of connecting the plot of Smith's career arc, he'd be a solid addition. San Francisco has a good enough team (when everyone doesn't get hurt, as they did last year) to be competitive with an average quarterback under center. Shahanan would be able to draw up an effective offense even with Smith's limitations. It's a good fit for both sides.