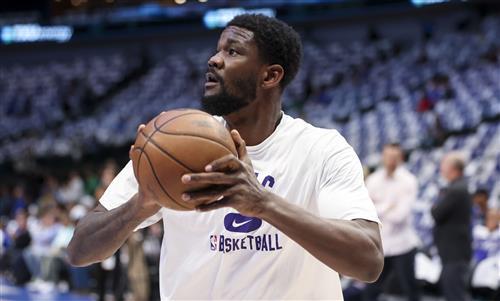 The Phoenix Suns' hopes for a repeat NBA Finals run spontaneously combusted last night, when they fell to pieces for all of Game 7 against the Dallas Mavericks. It was a team failure. No one person can possibly be blamed for the performance. It takes a village to score only 27 points in two quarters. At home. During a win-or-go-home game.
The ramifications for the loss will reveal themselves over the course of the next year, but the one we can already see involves center Deandre Ayton. Ayton did not receive a max extension offer from Phoenix last summer and decided to play out the final year of his contract. He was a critical piece for the 64-win team, averaging 17.2 points and 10.2 rebounds per game on 63 percent shooting from the floor while providing rock-solid rim protection.
But with the season on the line, Ayton managed all of five points, four rebounds, and three fouls. He didn't play at all after getting yanked with eight minutes left in the third quarter, and Monty Williams seemed particularly displeased with the young center afterwards on a night where everything and everyone was deserving of his disappointment.
Ayton was presumably unhappy the Suns didn't think him worthy of a max deal after playing a big role in their NBA Finals run in 2021 and the way this season ended will leave a bad taste in everybody's mouth. He'll be a restricted free agent this offseason, meaning the Suns can match any contract offer he signs elsewhere, but it's never felt more likely that Phoenix will decide to let him walk for big money and dedicate those financial resources elsewhere.
If that does happen, where could Ayton end up?
Portland Trail Blazers
The Blazers dumped various big-salary players and tanked the second half of the season in order to put themselves in position to retool the roster around Damian Lillard after the old formula grew stale. Ayton would be perfect for their roster. Lillard has never played with a legit roll threat that doubles as a rim protector like Ayton. Jusuf Nurkic reached that level for a while before he broke his leg and wasn't the same player upon returning.