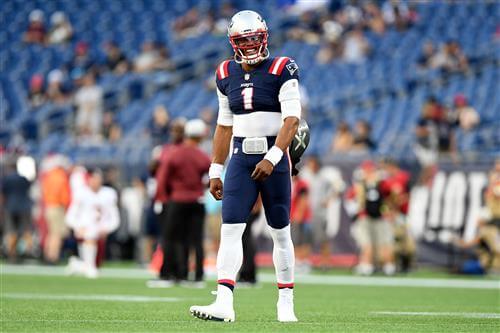 Cam Newton's stint with the New England Patriots was fraught and filled with errors. Now it's over. The very surprising news broke today via the Boston Globe's Jim McBride that Newton was among today's cuts by the Patriots and will hit free agency.
It is now the Mac Jones show in New England. Newton received pretty much all the first-team snaps in training camp this summer until a COVID protocol misunderstanding kept him out for five days. That was apparently enough for the coaching staff to decide the team was better off riding with Jones.
Now it's about what's next for Newton, a former MVP coming off easily the worst season of his career. Newton was not set up to succeed in 2020, trying to learn a new playbook on the fly with no practice time and then got sidelined with a positive COVID diagnosis that essentially tanked his and the team's season. But even with those caveats acknowledged, Newton was awful. He threw more picks than touchdowns and went consecutive weeks without throwing a TD. He's still the most dangerous short-game running quarterback in the NFL, but his throwing woes offset whatever value he brings on the ground nowadays.
Still, Newton is a big name and looked better in preseason than he did at any point in 2020. Someone will bring Newton aboard as insurance for injury or underperformance by the starter. Who might that be? Here are four possible destinations.
Baltimore Ravens
This one makes the most sense by far. The Ravens already have an offense in place that features heavy doses of QB runs and read-options. Newton is obviously no Lamar Jackson, but Jackson has missed time twice now with a positive COVID test and his playstyle suggests he's more in danger of physical injury than most quarterbacks. Newton's own COVID issues presumably helped lead to his departure from New England, but right now Baltimore only has Tyler Huntley and Trace McSorley backing up Jackson. Newton would be a better fit and a more reliable option than either as Jackson's fill-in.