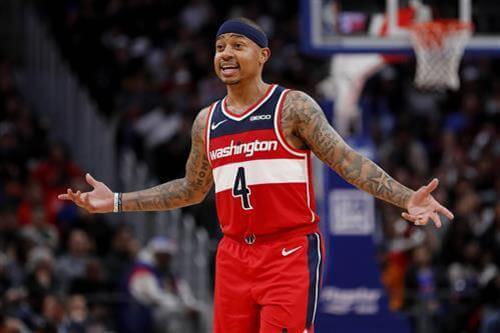 Heading into last offseason, the Philadelphia 76ers had a ton of cap space and financial flexibility to work with. That's not the case this year though, as the team has the vast majority of its space tied up in the contracts of Joel Embiid, Ben Simmons, Tobias Harris, Al Horford, and Josh Richardson. Thus, barring any major trades, the Sixers will be very limited in terms of the type of players that they can go after in free agency this offseason.
The top-tier players on the market are out of the question, as the Sixers won't be able to afford them. Philadelphia can use its mid-level exception to get a deal done, but, otherwise, they will have to look to sign players near, or at, the veterans minimum. Despite the limited cap space that they have to work with, the Sixers will have some holes to fill as Kyle O'Quinn, Alec Burks, Glenn Robinson III, and Raul Neto are all headed for unrestricted free agency. With that said, here's a look at five potential free agent targets for Philadelphia this offseason.
1. Alec Burks
Philadelphia acquired Burks from the Golden State Warriors at the trade deadline last season, and after a bit of a slow start, he proved to be a very valuable piece for the team by the time postseason play rolled around. Burks received inconsistent opportunities under Brett Brown, and he would likely benefit from a more defined role under new coach Doc Rivers. As a reliable floor-spacer -- he shot 41 percent from long range for the Sixers during the regular season -- Burks is a solid fit alongside All-Stars Joel Embiid and Ben Simmons, and as a player also capable of generating his own offense he filled a specific need for Philly.
Given his skill set, the Sixers certainly won't be the only team interested in Burks, and they could very well get outbid for his services. However, after playing with Embiid and Simmons and seeing how many open opportunities they generate for him, perhaps Burks will want to remain in Philadelphia, even if it's for slightly less than he could get elsewhere. If that's the case, the Sixers would be wise to bring him back.
2. Kyle Korver
Veteran forward Kyle Korver doesn't have much left to give at this point in his career, but the one thing he can still do at a high level -- shoot -- happens to be a skill that the Sixers need desperately. Korver is one of the most prolific 3-point shooters of all time, and defenses are forced to respect his shot virtually as soon as he crosses half court. The attention that he draws from defenses, in turn, opens things up for other players on the offensive end. He's a career 42 percent shooter from long distance, and he shot 41 percent from deep in Milwaukee last season. The Bucks used Korver to generate space for Giannis Antetokounmpo in transition and in the halfcourt, and the Sixers could use him in the exact same manner, except he would be creating space for Embiid and Simmons as opposed to Antetokounmpo.