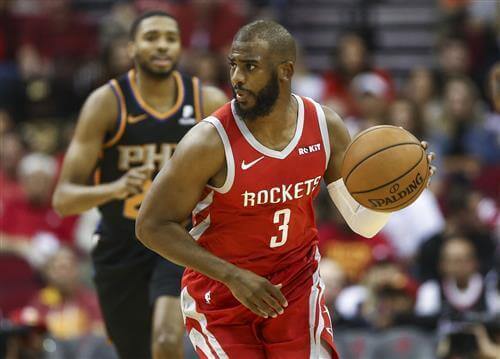 If there's one thing Houston Rockets general manager Daryl Morey is known for, it's a lack of complacency. That's why when reports came out early on May 29 regarding the Rockets putting all but one of their players on the trade block, including future first-ballot Hall-of-Famer Chris Paul, no one was all that surprised.
And why should we be?
This was supposed to be the year Houston finally turned the corner and got past the Golden State Warriors, a mandate that was particularly pressing once Kevin Durant was ruled out for the series following Game 5. Instead, the Rockets lost a heart-breaking Game 6 at home and dove headfirst into the offseason with more questions than answers.
Apparently, one of those questions – How are the Rockets supposed to improve their chances of dethroning Golden State while being so deep over the salary cap? – is already being answered.
They're going to hit the trade market, and hard.
Now, although Paul is still one of the best pure floor generals the game has to offer, moving him may not be all that easy. Not with that five-year, $159.7 million contract, which will pay him an astronomical $44.2 million in his age-36 season, looming.
Regardless, no player is untradeable, especially not those of Paul's ilk.
Below, we break down five potential trade suitors for the nine-time All-Star point guard.
CHARLOTTE HORNETS
Paul's home-state team, a franchise owned by the guy whose name adorns Paul's sneaker deal and general managed by Mitch Kupchak, who has already traded for Paul once before (for about an hour, at least), the Charlotte Hornets make a ton of sense as a potential landing spot for the star ball-handler.
The likelihood of the Hornets being an interested Paul suitor gets even higher if they lose their own star point guard, Kemba Walker, in free agency this summer. Although Charlotte can theoretically offer Walker a super-max contract by product of him making an All-NBA team this season, questions remain about whether they'll actually be willing to flirt with the luxury-tax line to do so, or whether Walker will even accept such a deal considering how badly he wants to win at this point in his career.
To get such a deal done, the Hornets could offer Houston a package including Nicolas Batum, Marvin Williams and Bismack Biyombo, as well as some protected draft compensation. Granted, none of those players are close to Paul's caliber, but they would all help improve the Rockets' questionable depth and fill specific roles for Houston.
Batum can make plays from the wing, space the floor from three and defend at a relatively high level; Williams is the type of floor-spacing power forward head coach Mike D'Antoni covets who is an adept defender against 3s and 4s; and the paint-protecting Biyombo can be another backup center option behind Clint Capela.
Landing Paul wouldn't turn the Hornets into contenders overnight, but bringing the North-Carolina legend home to enjoy the twilight of his career would be a feel-good move for both parties.
INDIANA PACERS
Because the Indiana Pacers aren't historically known as a premiere free-agent destination, they have often been forced to use the trade market to improve their rosters. That's how they landed their best player, Victor Oladipo, after all.
Well, if the Pacers want to make another splash move, they could insert themselves into the Paul discussions. They are set to have an opening at the lead-guard spot, for starters, as Darren Collison is about to hit unrestricted free agency in July. Even at his advanced age, Paul is still a huge upgrade over Indiana's starting point guard of the last two seasons, and he would form a potent 1-2 punch in the backcourt alongside Oladipo.
What's more, the Pacers could open up over $38 million in cap space pretty easily, meaning they would be able to absorb Paul's deal without having to match salaries, a frustrating process when dealing for a player making as much money as the future Hall-of-Famer is. To do so, Indiana would have to renounce the free-agent rights to all of their impending free agents (except for Bojan Bogdanovic), and offer the Rockets a deal including Doug McDermott, TJ Leaf, Alize Johnsonand protected draft compensation.