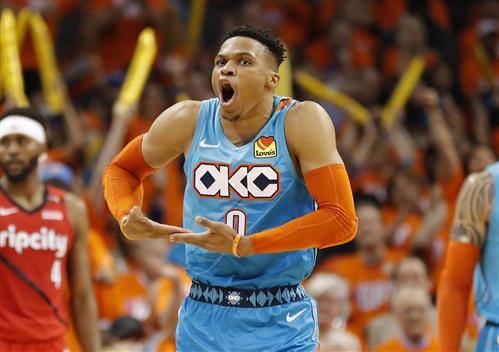 What an insane last few hours in the NBA. Kawhi Leonard and Paul George are heading to the Clippers in a move that stunned just about everyone in the league when the news broke. The balance of power in the NBA has shifted. The league is wide open and could get even crazier with news that the Thunder actually offered the Raptors a trade package that included both Russell Westbrook and Paul George. Per Woj, the Thunder wanted Pascal Siakam in return in the deal, but talks never got far.
Based on what the Clippers sent to the Thunder, the rumored offered was likely way more about leveraging LA to complete the trade for Paul George. But still, tossing out Russell Westbrook's name in trade talks is sure to upset him, and as Thunder writer Brett Dawson tweeted last night, the Paul George deal likely means they're floating Russ' name in trade talks. That's massive. With news that the Thunder might fully tear it down with a Russell Westbrook trade, the Complex Sports team cooked up five potential trades for the All-NBA point guard. Get ready for more chaos, folks.
Westbrook to the Knicks
Note that this trade wouldn't be able to be done until December, but stick with me here. Could you imagine Russ in the Garden every night? Must-see TV. Throw in the fact that both he and KD would be running NYC and it doesn't get much better than that. For the Thunder, they get a return package from the Knicks that includes both young players and draft picks to start their full rebuild.