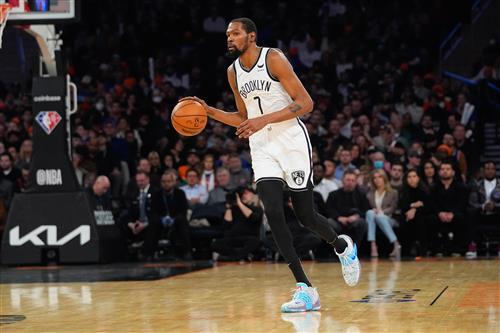 Two days ago, superstar forward Kevin Durant demanded a trade from the Brooklyn Nets.
Oh, you've heard?
As others have already touched upon, there is a lot to unpack here. One of Durant's preferred destinations, Miami, seems highly unrealistic for reasons that our Sam Amick explored here. Formulating a direct trade to send him to his other target destination, Phoenix, has similar complications that we chewed over two days ago.
Additionally, there's the perspective from Brooklyn. "What do the Nets actually want out of this?" is a question that perhaps isn't being asked enough. With the Houston Rockets controlling Brooklyn's next five drafts as a result of the bounty sent out in the James Harden trade, and with Nets owner Joe Tsai having sugar-plum visions of Warriors-like revenues, this doesn't feel like a tanking scenario. Thursday's trade of a future first-round pick for defensive stopper Royce O'Neale reinforced that point.
Yes, the Nets will demand draft picks to help rebuild their stockpile and, perhaps, use in future trades. But their biggest hope from a Durant trade would likely be real, actual basketball players who can help them win games right now. The hoped-for haul of two All-Stars probably isn't happening, unless it comes with an extremely broad definition of "All-Star" (I can just imagine the Knicks calling up and saying "hey, we'll give you Julius Randle and Derrick Rose!"), but one All-Star-caliber player and one good player in his 20s doesn't sound crazy.
Or does it? One of the key problems with Brooklyn's hope for an Anthony Davis-type trade haul is the fact that Durant is already 33 years old. Yes, he's signed for four more years, which is a tremendous advantage for the receiving team, but it's not realistic to expect him to be the "best player on a contender"-level good for more than two of them. Trading for Durant is a pure win-now move, whereas trading for a 26-year-old Davis offered both win-now and win-later windows. On the other hand, that didn't stop Minnesota from effectively dropping five firsts for Rudy Gobert; that likely will set a higher bar for Durant trades.
The other, final factor here is Durant's happiness in his final destination. For a player with four years left on his deal to submit a wish list with only two teams on it is pretty unrealistic. This isn't a Davis-type leverage play where he'd leave for nothing a year later if the Pelicans didn't deal him right away. Brooklyn is going to take calls from other teams (many, many other teams), and at least a couple will hope they can convince Durant to give their city a try.
Also lurking in the background is the Kyrie Irving question. Surely the Nets are trading him, too, after he spent the last three seasons laying waste to everything they had built from the ashes of the disastrous Paul Pierce-Kevin Garnett trade. While one outcome seems massively more likely than the rest (to the Lakers for Russell Westbrook and picks, perhaps with Joe Harris and Kendrick Nunn thrown in to even salary), the Nets will have the coming return from an Irving deal in the back of their minds as they strategize Durant trades.
With all that said, I've pored over the league and the cap sheets, and I only see five realistic places for Durant to end up. That doesn't mean only five teams will be calling Brooklyn. Surely every team in the league is at least asking some questions about what it would take, and it's fun for fans of, say, the Pelicans or Grizzlies to imagine Durant in their uniform.
Not that we're not tapping these front office's phone lines. While I've guessed at what would be a realistic payout for each team, there is going to be a lot of haggling back and forth on a deal of this size, particularly over draft picks and protections.
The tricky Phoenix deal
This one is out here for as long as Deandre Ayton remains unsigned, but there are multiple complications.
For starters, an actual direct trade with Phoenix gets tripped up almost immediately by two bits of salary cap arcana: first, that the Nets are too far past the luxury tax apron to take back Ayton in a sign-and-trade; and second, that Ayton's "base-year" status prevents Phoenix from taking back all of his first-year salary as a match.