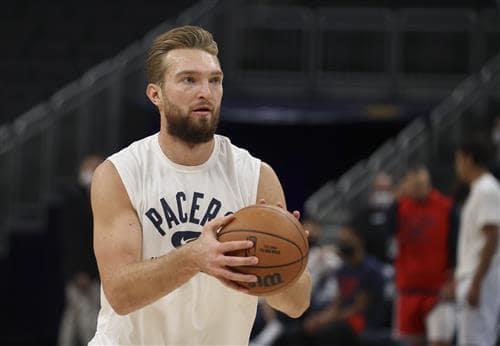 The NBA season is already one quarter of the way done, which means the trade deadline will be here sooner than you think. While there hasn't been an in-season trade yet in 2021-22 -- the last deals came on Oct. 6, when the Nets swapped players with the Rockets and Pacers in two separate deals -- trade season could pick up in a couple of weeks. More than 100 players who signed contracts this past offseason will become eligible to be traded on Dec. 15, giving teams more flexibility when working deals and matching salaries.
The standings are bunched up at this early stage of the season. In the Western Conference, just half a game separates fourth place from 10th place, while the 11th-place Celtics are only four games back of the first-place Nets in the East. Making a deal sooner rather than later could be a difference-maker for a potential contender. With that in mind, we asked our NBA experts to come up with deals to put a team back into pole position in the playoff race.
Golden State Warriors add another All-Star
Golden State receives: Domantas Sabonis
Indiana receives: James Wiseman, Jonathan Kuminga, Moses Moody
I've been a proponent of the Warriors holding onto their young lottery picks to secure the future, but this deal gives them an All-Star at a position of need. Sabonis is young enough (25 years old) to be a franchise player even after the Warriors' current core starts to age. As Deandre Ayton and the Phoenix Suns just demonstrated, the Warriors can be exploited by certain matchups in the middle.
Sabonis would turn Golden State's weakest position into a strength, and he has the game to do exactly what the Warriors need from their big men at a high level. He is an excellent passer and decision-maker on offense, making him an ideal pick-and-roll/pop partner for Stephen Curry. Sabonis is an elite rebounder, with the girth to bang with the big men and a skill set that fits perfectly next to Draymond Green on the front line. He doesn't require volume touches or plays to be run for him, but Sabonis can score efficiently when called upon. In short, adding Sabonis to their current core would solidify the Warriors as championship favorites for the foreseeable future.
Because this is a 3-for-1 exchange, the Pacers would have to cut two players to complete the trade. This deal would signal that the Pacers don't think they can contend with their current core and are ready to rebuild/reload. They missed the playoffs last season with a sub-.500 record, and this season, they're winning less than 40% of their games thus far. Wiseman was the second overall draft pick in 2020, and both Kuminga and Moody were lottery picks this year. Wiseman and Kuminga, in particular, are seen as high-upside prospects who could grow into stars with proper development.
Dallas Mavericks bring back Barnes
Dallas receives: Harrison Barnes, Marvin Bagley III
Sacramento receives: Tim Hardaway Jr., Dorian Finney-Smith, Willie Cauley-Stein, 2022 second-round pick, 2024 second-round pick
Until a foot injury slowed him down, Barnes was off to a hot start this season. He scored 21 points or more in nine of his first 13 games, and he is averaging 19 points, 7.2 rebounds and 39.8% shooting from behind the arc. Provided that Barnes' foot issue isn't serious, the Mavericks could use a reunion with Barnes -- and add another big man to help Kristaps Porzingis inside and set screens and give Luka Doncic another potential scoring option inside.
While Dallas needs all the shooting it can get, Doncic and Porzingis can use another player who either can create his own shot, score and/or shoot. Barnes isn't a playmaker, but he can score, rebound and shoot, although he doesn't shoot as many 3s as Hardaway, who was signed to a four-year, $75 million deal this offseason (and therefore cannot be traded until Dec. 15).