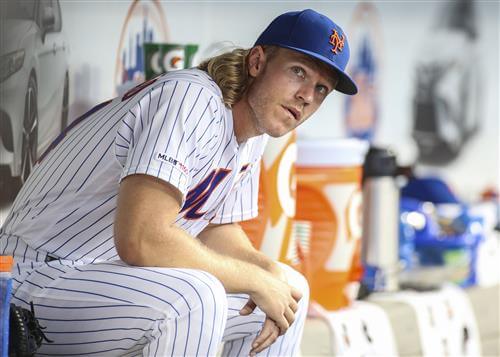 Things have been a little slow on Major League Baseball's summer trade market. But now that the July 31 deadline is just about here, that's about to change in a hurry.
We've come to offer our final predictions for what all 30 teams will do before time runs out at 4 p.m. ET on Wednesday. These cover players who will be on the move and those who will be staying put.
Some of these predictions are rooted firmly in rumors. Others are simply educated guesses.
In any case, we'll proceed in alphabetical order by city.
Arizona Diamondbacks: Zack Greinke Stays
Record: 53-53, 3rd in NL West
The Arizona Diamondbacks are technically in contention for the National League's second wild-card spot. According to Jon Morosi of MLB.com, however, they're "focused intently on selling."
Further, it seems that just about every big-name player on Arizona's roster is there for the taking. The list is headlined by ace right-hander Zack Greinke, who's fresh off earning his sixth career All-Star nod.
But as always, the smart money is on him staying put. There are few logical fits for him out there and—judging from his MLB Trade Rumors page—seemingly even fewer interested parties.
In a related story, Greinke's $206.5 million deal and 15-team no-trade list massively complicate his trade value. It's much easier to see the D-backs moving him over the winter than ahead of Wednesday's rapidly approaching deadline.
Atlanta Braves: They'll Trade for Mychal Givens
Record: 62-44, 1st in NL East
The Atlanta Braves are a first-place team with pitching needs and an elite farm system to barter with. In theory, these things make them a candidate to pull off a blockbuster or two.
In actuality, the Braves might just as soon protect their best prospects as trade them. Specifically, Gabriel Burns of the Atlanta Journal-Constitutionzeroed in on outfielders Cristian Pache and Drew Waters and righties Ian Anderson and Kyle Wright as likely untouchables.
Besides, Atlanta's pitching staff is in better shape now than it was earlier this season. Its only true need might be a late-inning reliever to help Luke Jackson shoulder the load.
To wit, Ken Rosenthal of The Athletic reported that the Braves are interested in Baltimore Orioles righty Mychal Givens. He should have a reasonable acquisition cost for a guy who's controlled through 2021. And if nothing else, he's an excellent source of strikeouts.
Baltimore Orioles: Trey Mancini Stays
Record: 35-70, 5th in AL East
Speaking of Orioles trade chips, there aren't many good ones in Baltimore outside of Givens. It's mostly a collection of has-beens and never-will-bes.
Save for Trey Mancini, of course. But moving him isn't something the Orioles want to do.
"As I've said and discussed all along, we're in a position in our competitive cycle where we need to be open to anything that comes our way," O's GM Mike Elias told Dan Connolly of The Athletic. "But Trey's the type of guy that you want around and that you want on your roster going forward."
The Orioles control Mancini, who has an .869 OPS and 24 home runs, through 2022, so they'll surely only move him if a team blows them away with an offer. Between his iffy defense and the general shortage of offense-needy contenders around MLB, there are big hurdles in the way of such an offer.
Boston Red Sox: They'll Trade for Alex Colome
Record: 59-48, 3rd in AL East
After the Boston Red Sox added Andrew Cashner, president of baseball operations Dave Dombrowski told reporters (including Chris Cotillo of MassLive.com): "We like how our club looks, but we've liked how our club looks for a long time. I think we're starting to play better."
These words ring true in the wake of Boston's domination of the New York Yankees over the weekend. But rather than stand pat, it's possible that Dombrowski will now be emboldened to add another key piece.
The Red Sox have been interested in San Diego Padres closer Kirby Yates and Toronto Blue Jays closer Ken Giles, according to Morosi. But since neither righty's price tags lines up with the Red Sox's MLB-worst farm system, they might have to pivot to a Plan B.
Speculatively, Chicago White Sox righty Alex Colome is an affordable yet still desirable—he's put up a 2.27 ERA this season—alternative to Giles and Yates. As a bonus, they'd control him through 2020.
Chicago Cubs: They'll Trade for Nicholas Castellanos and Shane Greene
Record: 56-49, T-1st in NL Central
Apart from a 22-6 stretch in April and May, the Chicago Cubs' 2019 season has mostly been a slog. And now that the St. Louis Cardinals (56-49) and Milwaukee Brewers (56-51) have caught them, it's time to do something about it.
There isn't an area where the Cubs don't need help, but their offense and bullpen should take priority. To these ends, it's hard not to read into NBC Chicago's David Kaplan's report that the Cubs have discussed both Nicholas Castellanos and Shane Greene with the Detroit Tigers.
Greene, who owns a 1.22 ERA, would be a reliable setup man for Craig Kimbrel. Castellanos, who boasts an .825 OPS dating back to 2016, would help liven up a lineup that's had its up and downs.
One catch is that Castellanos is a poor right fielder. But between Jason Heyward and Albert Almora Jr., the Cubs have the personnel to downplay that problem as needed in the late innings.
Chicago White Sox: Jose Abreu Stays
Record: 46-57, 3rd in AL Central
The White Sox don't have much rebuilding left to do, but logic dictates that they might as well cash in some trade chips while they're not going anywhere this season.
This would seem to go double for 32-year-old first baseman Jose Abreu, who's making $16 million in his final season before free agency. But the White Sox have insisted (see here and here) they don't want to move him.
The White Sox might be swayed by the right offer, but whether this market has one for them is a good question. There are "a few" teams monitoring Abreu, according to Phil Rogers of Forbes, but even he concedes that the slugger's value as a rental is "limited."
Not many contenders need a first baseman, and the ones that do may see Abreu as a hitter who's past his prime. By contrast, the White Sox clearly view him as an indispensable part of their lineup and clubhouse.
Cincinnati Reds: Luis Castillo Stays
Record: 48-55, 4th in NL Central
Time has pretty much run out for the Cincinnati Reds to wait and see if their positive run differential (currently plus-28) will translate to consistent wins. It's time to sell.
At the least, the Reds figure to move Yasiel Puig and Tanner Roark rather than lose them to free agency this winter. And according to Morosi, they're willing to listen on All-Star righty Luis Castillo.
In the abstract, Castillo is about as shiny as trade chips come. He's a live-armed ace who's come into his own with a 2.71 ERA this season. He's also only 26 years old and controlled through 2023.
Yet these factors also add up to a price tag that must be downright astronomical. One enterprising team might pay it if the market was largely devoid of talented starters, but the opposite is true. There are plenty of more easily attainable options for contenders to consider.
Cleveland Indians: Brad Hand Stays
Record: 62-43, 2nd in AL Central
You might have noticed that it doesn't say "Trevor Bauer stays" up there. But we'll get to that later.
For now, just don't expect Brad Hand to go anywhere.
The left-handed relief ace has put up a 2.40 ERA and whiffed 13.8 batters per nine innings for the Cleveland Indians since he arrived from the San Diego Padres last summer. The Indians also inherited his contract, which will max out at just a $10 million salary if they exercise his 2021 option.
Despite being only two games out of first in the AL Central and in possession of the AL's top wild-card spot, the Indians are more likely to sell than the garden-variety contender. But judging from the lack of rumorsabout Hand over the last six weeks, they seem to have made it clear that he's simply too valuable to them.
Colorado Rockies: Charlie Blackmon Stays
Record: 49-57, 5th in NL West
In seemingly no time at all, the Colorado Rockies have sunk from second in the NL West all the way to last. With both the division lead and the NL's second wild-card spot out of reach, they might as well sell.
The tricky part is that the Rockies don't have any short-term assets that they must cash in right now. The best they can do is hope for good offers on long-term assets.
Notably, Morosi reported that the Rockies "would listen" to offers for four-time All-Star Charlie Blackmon. Between his .936 OPS since 2016 and his contractual control through 2021, he hypothetically represents an impact hitter for the short and long term.
Yet it's likely that the Rockies and contenders will have very different ideas about Blackmon's value. Where the Rockies see a star, others may see a Coors Field creation who's owed too much money ($43 million, to be exact) over the next two seasons.
Detroit Tigers: Matthew Boyd Stays
Record: 30-71, 5th in AL Central
In lieu of Castillo, Matthew Boyd is the best hope for contenders to land a young ace for the foreseeable future.
The 28-year-old lefty only showed flashes of greatness between 2015 and 2018. Now he's a full-on bright spot in 2019, as he's graced the Tigers with 12.0 strikeouts per nine innings and an AL-best 6.5 strikeout-to-walk ratio. Arguably best of all, his club control runs through 2022.
It's because of these things, however, that the Tigers have put a huge price on Boyd's head. According to MLB Network's Jon Heyman, they're asking some teams for "an established young MLB star—not just prospects."
That's a huge ask for any pitcher. Interested parties might reason it's simply too much for a guy with a 3.91 ERA, much less a 5.28 ERA over the last two months.
Houston Astros: They'll Trade for Zack Wheeler
Record: 68-39, 1st in AL West
The Houston Astros should have enough firepower to wrap up a third straight AL West title, but their rotation after Justin Verlander, Gerrit Cole and Wade Miley is thin enough to warrant an addition.
The Astros have been linked to all sorts of high-profile names as part of this pursuit, but perhaps the most attainable relative to what they can offer is Zack Wheeler.
According to Heyman, the Astros are "one of many teams" with interest in the Mets right-hander. His trade value is down by way of a 4.71 ERA and a recent bout with shoulder fatigue. Yet his talent is still as intriguing as it's ever been, and Houston's famed analytics arm could certainly make the most of it.
More so than Noah Syndergaard, Wheeler looks like the odd man out of the Mets rotation following their surprise trade for Marcus Stroman. The Astros might be able to rent him for the rest of 2019 without giving up outfielder Kyle Tucker or any other prized prospects.
Kansas City Royals: Whit Merrifield Stays
Record: 40-67, 4th in AL Central
The Kansas City Royals may be ticketed for a second straight 100-loss season, but that doesn't mean they can't drive a hard bargain with their trade chips.
According to Rosenthal, the Royals aren't interested in paying down salaries for high-priced albatrosses such as Ian Kennedy and Danny Duffy. And they're digging in even deeper with regard to All-Star utility man Whit Merrifield. Per Bruce Levine of 670 The Score, Merrifield's asking price starts with "three MLB-ready players."
That asking price isn't as absurd as it might sound. Merrifield has gotten better every year since his debut in 2017. He's also fresh off signing a four-year extension that guarantees him only $15.25 million after 2019.
But because Merrifield is already 30 years old, interested parties might reason that he might not be long for his prime. And apart from possibly the Cubs, it's hard to pinpoint contenders that need him badly enough to pay the Royals' price for him.
Los Angeles Angels: They'll Trade for Danny Duffy
Record: 55-52, 3rd in AL West
It's difficult to point to the Los Angeles Angels starting rotation as an area of need in the wake of Tyler Skaggs' tragic death.
Nonetheless, it is an obvious target for GM Billy Eppler's trade deadline strategy, which he told Jeff Fletcher of the Orange County Register will "lean heavily" toward adding controllable talent.
According to Heyman, the Angels have checked in on Bauer, Syndergaard and "every possible starting pitcher." But given that they have some money coming off their books this winter, it seems likely that they'll prefer taking on salary to subtracting from their No. 21 farm system.
If so, Royals southpaw Danny Duffy is a possibility. Despite the veteran's 4.67 ERA over the last two seasons, Rosenthal reported that the Royals aren't inclined to eat any of the $30.8 million that Duffy is owed across 2020 and 2021. That may be fine with the Angels so long as they don't have to surrender top prospects in a deal.
Los Angeles Dodgers: They'll Trade for Will Smith
Record: 69-38, 1st in NL West
A blockbuster trade between the Los Angeles Dodgers and San Francisco Giants? Such things are exceptionally rare, and now wouldn't seem the best time for that trend to break.
According to Mark Feinsand of MLB.com, the Giants may have no interest in selling amid an 19-5 stretch that's catapulted them into the NL wild-card race.