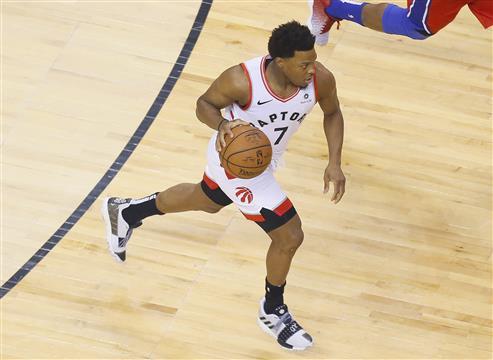 In a league in which superstar salaries have been skyrocketing and teams value every precious dollar under the tax apron, the excitement during this year's NBA free agency, which begins Aug. 6, may resemble fireworks more often associated with a trade deadline.
The Celtics have popularized the sign-and-trade as much as any franchise. Who can forget the largest trade exception ($28.5 million) in league history that Boston netted in exchange for Gordon Hayward last summer? The trend has begun to sweep across the NBA, and it seems this offseason could indeed become the summer of the sign-and-trade, especially as the majority of the league's contenders face limited financial wiggle room to improve their rosters.
"Not only are they capped out, but you look at the lack of assets to play with," said one team personnel staffer. "What do the Lakers do? What do the Clippers do? What do the Bucks do? The Nets have no picks to trade."
Let's not forget Kevin Durant technically didn't sign with Brooklyn in 2019. After the superstar made his intentions of joining Kyrie Irving at Barclays Center known, Golden State then pounced on an opportunity to not lose Durant for nothing. And once it became clear D'Angelo Russell had no chance at returning to Brooklyn, the Warriors provided the young point guard with a maximum contract offer and the grandest stage of all: playing for a dynastic team in the purported middle of their title window. Russell and Durant were actually signed-and-traded for each other.
"Sign-and-trades work because all parties benefit, because all parties have to agree," said another team cap analyst. "And it allows the player, in theory, to make more money than they could otherwise make with a team that doesn't have cap space."
The only catch: Teams can't receive players in a sign-and-trade if it would push them over the tax apron—a threshold of approximately $6 million above the luxury tax that serves as a hard cap for teams. This limitation will affect several contenders moving forward, especially as Milwaukee and Brooklyn navigate their massive payrolls.
Clippers' Options
Back in March, both Los Angeles teams pursued acquiring Kyle Lowry. Now, it appears each team remains interested, and both would need to acquire him via sign-and-trade.
The Kawhi Leonard whispers will continue until he's re-signed. It's unclear how Leonard's surgery to repair a partially torn right ACL will impact his free agency, but plenty of teams will remain interested in landing his services.
League insiders still discuss how the Miami Heat's Jimmy Butler was purportedly ranked high on a list Leonard provided Clippers brass during his free agency in 2019 before Los Angeles landed Paul George. Those same voices also noted to Bleacher Report a string of messaging from Dallas in recent weeks about their interest in Leonard.